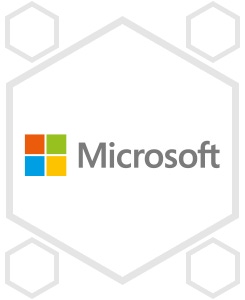 AI Business attended the Microsoft's event 'Future Decoded' at the ExCel exhibition centre 1st November to see how different companies are using AI in their industry. The Future Decoded conversation allows you to find out how your organisation can make the leap from today to tomorrow by embracing the power of digital transformation.
"Designed for leaders and decision makers in larger organisations, the Future Decoded Business Day on November 1, 2016 is packed with inspirational keynote speakers, great customer stories and real-world examples that demonstrate how you can make your business a digital business. Take away practical, usable solutions you can implement straight away", the website reads, hence why AI Business saw it as an interesting event to attend to gather a little more information about how the different companies are implementing AI, and where they see the future of this technology.
Featuring a wide range of interesting speakers, such as Philip Hammond, Chancellor of the Exchequer, Toni Townes-Whitley, Corporate Vice President for Microsoft and Dr Ian Levy, Technical Director at the National Cyber Security Centre, the event had attracted a large number of visitors from all over the world.
One of the experts that AI Business interviewed was Bobby A. Auburn from Pyramid Analytics. Pyramid Analytics is a company that focus on making analytics universally available and valuable. In 2016, Pyramid Analytics now have more than one million decision makers at hundreds of companies relying on their support to move their business forward, ranging from delivering smarter health care, re-imagine retail, or run a top ranked manufacturing facility. Their goal is to create a collaboration between themselves and the organisation so they can extend the reach and impact of their analytics.
AI Business was curious to know where Auburn would see the development of AI going in the future? 
"When I think about the future of artificial intelligence and how it will evolve over the coming years I would say that it will make our lives a lot easier", Auburn said. "It will allow us to think in different dimensions, different focal points and vision-points, and that information can then be used in analytics and predictive analysis to make better decisions and also overcome any troubles".
Auburn mentions that there is a massive potential in terms of development of the technology.
"I can see it improving a lot, and I am seeing a range of different developments going on as well so I am very curious [to see where it goes] and I am looking forward to see what is going to happen in the future development of AI".
AI Business also met with Pawel Szmit, Software Developer for Objectivity Bespoke Software Specialists. Objectivity is a company originally based in Poland, who was attending the Future Decoded Event to show how Conversational Apps, the Internet of Things and the Microsoft Intelligent Cloud can be leveraged to transform a business.
They are a value-driven IT outsourcing organisation which aims to create mutually-rewarding solutions for all their stakeholders. "Our speciality is creating dedicated long term teams for blue chip clients from our nearshore development centre in Wroclaw, Poland", their website writes.
Pawel Szmit told AI Business how he is very positive about the development of artificial intelligence in the future.
Szmit elaborated on how he believes that at the time we are seeing a large influx of bots coming into our lives, which will simplify anything from the mundane tasks, to the "bigger" ones. This will again allow us to spend more time doing the more important things, and less time doing smaller tasks, such as Googling questions, or interacting with people online.
"It's really interesting to see how people can very easily book an event, or do anything through an app"
The last executive AI Business was able to catch up with was Ian Cotton, Commercial Sector and External Account Manager for risual Limited.
risual Limited released their new app today in a collaboration with Watches of Switzerland, which basically gives the user a "personal shopper" at the swipe of an iPad or their iPhone. Their app will be neatly customised for each user, suggesting anything from new purchases, to reminding them of their anniversary coming up, or alerting them of selected brands having sales, etc.
"The good thing is that it will not alert the customer unless he or she actually accesses the app themselves, so it will never 'bother' the customer in any way, unless they actually open the app", Cotton explained.
So why is it that risual Limited chose to implement AI into their business? 
"We are focused very much on customer experience at the moment, and focusing on building a platform using CRM Online which ultimately will become Dynamics 365. We are very keen to utilise these functionalities available in power BI and rich marketing and reporting capabilities within an application", Cotton explains, saying how the implementing of AI is an important step towards improving customer experience.
Where do you see the future of this new app?
"We are targeting aggressively the luxury high street retailers that we expect to see up and down the high street hopefully if we're successful very soon. We're getting a lot of interest outside of the retail verticals as well, such as hospitality and events, sporting organisations and logistics companies, so typically anywhere where historically you would have seen apps (apps are prevalent up and down the country at the moment, particularly in business)".
Keep up with the ever-evolving AI landscape
Unlock exclusive AI content by subscribing to our newsletter!!
You May Also Like
---