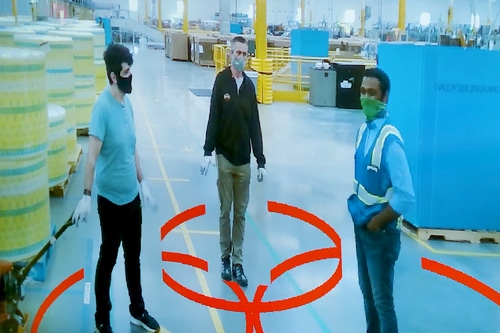 But how much of this is just PR?
Amazon is rolling out a system that uses artificial intelligence, cameras, and large screens to show warehouse workers whether they are compliant with social distancing measures.
The augmented reality tool shows a six-foot (1.8m) green circle around individuals, that turns red when it intersects with another circle.
The circle of life
"Given social distancing isn't always natural, this team set out to use augmented reality to create a magic-mirror-like tool that helps associates see their physical distancing from others," Amazon Robotics VP Brad Porter said in a blog post announcing the system.
"Working backwards from a concept of immediate visual feedback, and inspired by existing examples like radar speed check signs, our 'Distance Assistant' provides employees with live feedback on social distancing via a 50-inch monitor, a camera, and a local computing device."
He added: "The standalone unit uses machine learning models to differentiate people from their surroundings. Combined with depth sensors, it creates an accurate distance measurement between associates."
The system is currently live "at a handful of our buildings," Porter said. The company plans to deploy hundreds of these units over the next few weeks – and eventually plans to open-source the software behind Distance Assistant.
It is not clear if the open-source version will allow for the distancing circle to be extended to the 6.5 feet (2m) distance recommended in countries like the UK.
Porter added that Amazon also used artificial intelligence and machine learning to analyze camera footage in its buildings to help site leaders identify high-traffic areas.
The technology – and the concerted marketing push behind it – comes after heavy criticism of the $1.3 trillion tech giant for its early response to COVID-19.
Earlier this month, a group of warehouse workers in New York filed a lawsuit against the company, accusing it of neglecting their safety, leading some to catch the virus at the 'fulfillment center,' and ultimately causing the deaths of relatives.
The reported treatment of warehouse staff during this crisis led to an Amazon Web Services VP quitting the company in protest. In a blog post, Tim Bray explained his thinking: "Stories surfaced of unrest in Amazon warehouses, workers raising alarms about being uninformed, unprotected, and frightened. Official statements claimed every possible safety precaution was being taken.
"Then a worker organizing for better safety conditions was fired, and brutally insensitive remarks appeared in leaked executive meeting notes where the focus was on defending Amazon 'talking points'."
He continued by referencing Amazon's decision to fire two whistleblowers who had organized an event to discuss worker conditions.
"Management could have objected to the event, or demanded that outsiders be excluded, or that leadership be represented, or any number of other things; there was plenty of time. Instead, they just fired the activists," Bray said.
He added: "Remaining an Amazon VP would have meant, in effect, signing off on actions I despised. So I resigned."
Speaking about Distance Assistant, VP Brad Porter said: "This solution is just one of many ideas that have surfaced over the past few months. Knowing my colleagues and their drive, it will not be the last.
"Nothing is more important than the health and well-being of our employees and we'll continue to innovate to keep them as safe as possible."
Keep up with the ever-evolving AI landscape
Unlock exclusive AI content by subscribing to our newsletter.
You May Also Like
---