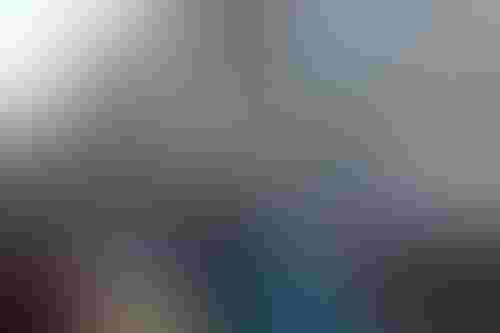 #NoTechForApartheid argues the tech makes it easier to surveil Palestinians.
Staff at Google and AWS staged a walkout over their respective companies providing AI and cloud computing tech to Israel.
Project Nimbus is a $1.2 billion contract the tech giants secured in April to provide the Israeli government and military with this technology.
The protest movement, No Tech For Apartheid, takes issue with the deal, claiming the tech is being used to assist alleged rights abuses against Palestinians.
"Technology should be used to bring people together, not enable apartheid, ethnic cleansing, and settler-colonialism" the group's website reads.
The Intercept reported that training documents it obtained showed that Nimbus will give the Israelis facial detection capabilities, as well as automated image categorization, object tracking and sentiment analysis.
The group's petition to the companies has amassed almost 42,000 signatures. Aside from Israel, they also take issue with the companies' respective work with U.S. immigration authorities and the military.
Ariel Koren, the former director of marketing for Google's educational products department, resigned over the issue last week.
Before quitting, she circulated petitions, lobbied executives and spoke with news outlets, but failed to get the company to reconsider. A week later, colleagues from both companies across multiple cities walked out over the issue.
Google Cloud spokesman Atle Erlingsson told AI Business that the company is "proud to support numerous governments around the world in countries where we operate, including the Israeli government, with our generally available cloud computing services. This protest group may have its own views about Israel, but that doesn't impact our work on this contract.
"As we have stated many times, the contract is for workloads running on our commercial platform by Israeli government ministries such as finance, health care, transportation, and education. Yesterday's protest group is misrepresenting the contract — our work is not directed at highly sensitive or classified military workloads relevant to weapons or intelligence services."
AWS did not respond to a request for comment in time for publication.
Occupation and discrimination?
The worker's concerns relate to alleged human rights abuses by Israeli forces in their occupation of Palestine.
Palestine claims sovereignty over the land, but Israel has occupied the West Bank since the late 1960s over security concerns following several bloody wars with Arab and Egyptian forces.
Throughout its occupation, Israel has been accused of unlawfully killing protesters, encouraging anti-Arab sentiments and illegally bulldozing homes in occupied territories for Jewish settlers.
Amnesty International argues that Israel treats Palestinians as "an inferior racial group and systematically deprived of their rights" and likens the occupation to "apartheid."
An independent report published in June by the United Nations Human Rights Council suggests that the occupation and discrimination by Israel are largely to blame for the ongoing conflict.
However, that report also notes that the Palestinian Authority "frequently uses the occupation as a justification for its own human rights violations and as the core reason for its failure to hold legislative and presidential elections."
Keep up with the ever-evolving AI landscape
Unlock exclusive AI content by subscribing to our newsletter!!
You May Also Like
---