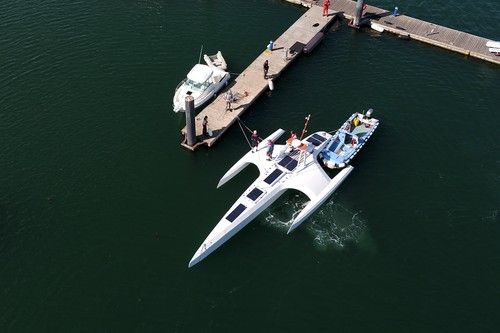 Testing the system ahead of a transatlantic voyage next year
IBM and Ocean research non-profit ProMare have built an autonomous vessel they hope will cross the Atlantic under the guidance of an AI system.
The Mayflower Autonomous Ship hopes to recreate the journey of the eponymous Mayflower made back in 1620, minus the Puritans, next year. The solar-powered ship will gather environmental data as it travels from the UK to the US.
A lab at sea
Sporting one IBM Power Systems AC922 server, six Nvidia Jetson AGX Xaviers, two Jetson Xavier NX, "four+" Intel-based computers, and four custom microprocessor systems, the trimaran is essentially a floating edge data center.
With more than 30 sensors, and six 'AI cameras,' the 15m boat is capable of Level 5 autonomy, and should ideally need no human intervention.
The five-ton vessel will use a precision Global Navigation Satellite System, Inertial Measurement Units, radar, SATCOM, and an automatic identification system for navigation. It will rely on weather data from The Weather Company, which IBM bought for around $2bn back in 2016.
Should the meteorology prove troubling, the system should be able to automatically route around storms, or wait for adverse conditions to pass.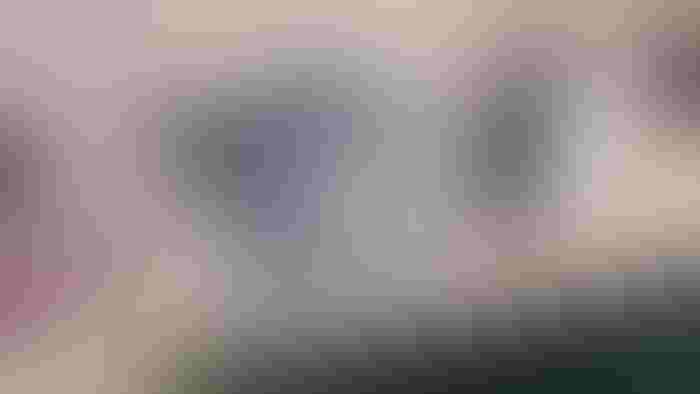 "Able to scan the horizon for possible hazards, make informed decisions and change its course based on a fusion of live data, the Mayflower Autonomous Ship has more in common with a modern bank than its 17th-century namesake," said Andy Stanford-Clark, CTO at IBM UK & Ireland. "With its ability to keep running in the face of the most challenging conditions, this small ship is a microcosm for every aspiring 21st-century business."
Design of the vessel, and training of the AI models, took two years. Now it will be given shorter voyages and sea trials for seven months before heading off on its perilous journey next April. The original Mayflower took 66 days to travel about 2,750 miles (4,425km).
In collaboration with other research institutions, ProMare will use the ship to study subjects like global warming, micro-plastic pollution, and marine mammal conservation.
Onboard will be a robot octopus, powered by IBM Watson Assistant technology and created in partnership with European start-up Chatbotbay. 'Artie' will primarily act as a marketing tool, providing updates on the voyage, but users will also be able to use one of its robot arms to fish waste out of the ocean.
The vessel thrusts IBM into competition with a sea of other autonomous vessel firms, notably Sea Machines Robotics, which raised $15m earlier this summer.
Rolls-Royce and Intel also came together in 2018 to develop systems for autonomous cargo ships, while startups like Captain AI are trying to make ports ready for autonomous shipping solutions.
Then there's the defense industry, which is pumping money into the idea – our very own Max Smolaks went to see the BAE Systems P24 last year.
Over in the US, DARPA is funding the 'No Manning Required Ship' (NOMARS) program to "challenge the traditional naval architecture model, designing a seaframe from the ground up with no provision, allowance, or expectation for humans at sea."
On September 18, the agency awarded nearly $8m to Serco North America under the NOMARS program. While Serco is best known for its ties to the British state and handling privatized contracts, its North American division is a major military contractor, supplying the Navy, Army, and now Space Force.
Keep up with the ever-evolving AI landscape
Unlock exclusive AI content by subscribing to our newsletter!!
You May Also Like
---