The Commercialization of the UK Drone Industry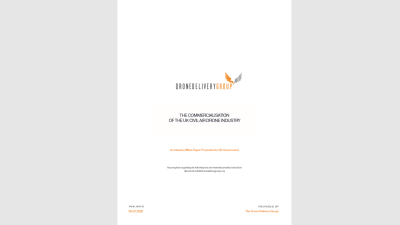 The purpose of this Paper is to provide the UK Drone Industry's coordinated guidance (represented by the 300+ strong Drone Delivery Group) to the Government's Air Traffic Management and Unmanned Aircraft Bill.
Despite the very best-intentioned efforts, the overall Government landscape is fractured with different departments sponsoring, or as a minimum working with, different groups and approaches with no clear national strategy to understand and ultimately develop and standardize an evidence-based UK UTM landscape.
The commercial drone market is growing rapidly, analysts at Barclays estimate that the global commercial drone market will grow tenfold from £3bn last year to £30bn in five years.
They believe the use of drones will result in cost savings of some £77bn.
The UK industry is unable to progress as quickly as in other countries such as Japan, the US and China, which have all embraced testing infrastructures for the industry and provided access to intelligence obtained from testing activity for regulators and standards makers.
It is vital that the UK maintains a safe infrastructure capable of managing airspace which can also accommodate drone operations. In order to realize the commercial value of this industry that has unquestionable potential to benefit the UK economy, a national approach is urgently needed.
DOWNLOAD NOW
More videos