British politician decries AI 'nudifier' platform, calls for the site to be banned
British politician decries AI 'nudifier' platform, calls for the site to be banned
DeepSukebe charges up to $40 in crypto for 'nudifier' services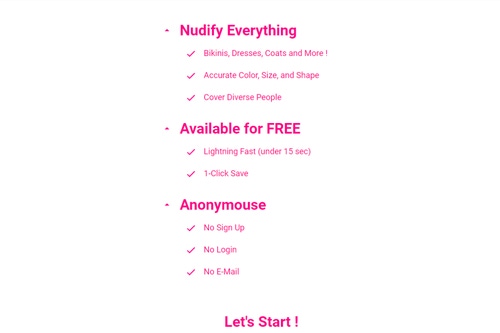 DeepSukebe charges up to $40 in crypto for 'nudifier' services
A British politician has called for a platform that uses AI to 'undress' images of women to be banned.
Maria Miller, the member of Parliament for Basingstoke, wants the site shut down, saying it should be an offense to distribute sexual images online without consent to reflect "the severity of the impact on people's lives."
The platform in question is DeepSukebe, which describes itself as an "AI-leveraged nudifier" to "make all men's dreams come true."
The Parliamentarian argued that such projects should be made criminal in the upcoming Online Safety Bill.
"If software providers develop this technology, they are complicit in a very serious crime and should be required to design their products to stop this happening," she told the BBC.
Malware, Malaysia, and 'a high risk of being fraudulent'
DeepSukebe was launched last year. Users can upload an image of a person to the site, and its machine learning model generates a naked body to replace the clothes. The site flaunts its anonymity, proclaiming there's no need to sign up or provide an email address to use the service.
This isn't the first such platform to hit the headlines.
DeepNude, an AI-powered app, was launched in 2019 to remove clothes from images of women in a similar fashion. It was quickly shut down following immense backlash.
Those trying to use the DeepNude app today may just end up downloading malware, as a plethora of fake sites are using the name to dupe unsuspecting visitors.
DeepSukebe appears to be much more brazen – with plans to improve its AI model.
The site attracts 4,550 unique daily visitors, according to webrate.org, with its largest audience coming from Asia. Taiwan (22 percent), Malaysia (14 percent), and Vietnam (9 percent) make up the largest portion of its visitors.
While the platform's owners appear anonymous, Webrate said Deepsukebe is hosted in Seychelles by IP Volume inc. The ISP "potentially poses a high risk of being fraudulent," according to Scamalytics, as the majority of the 15,000 IP addresses it operates are running anonymizing VPNs, and public proxies.
The service is available for free but DeepSukebe is charging users up to $40 to skip the processing queue, with the amount required to be paid in cryptocurrencies.
Maria Miller, the MP campaigning for the site to be shut down, has been vocal about 'revenge porn' - when nude or sexually explicit images are distributed without consent – for some time.
"At the moment, making, taking, or distributing without consent intimate sexual images online or through digital technology falls mostly outside of the law," Miller said.
AI Business has reached out to both DeepSukebe and IP Volume for comment.
While AI can be used for nefarious purposes, there are plenty of new and exciting companies using AI to eradicate algorithmic biases when it comes to the gender spectrum, and educate consumers about sexual health. AI Business spoke with some of the sextech AI pioneers back in May.
Keep up with the ever-evolving AI landscape
Unlock exclusive AI content by subscribing to our newsletter!!
You May Also Like
---