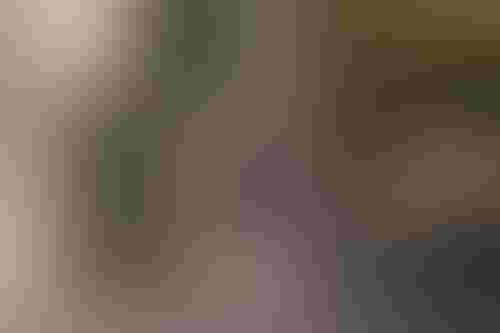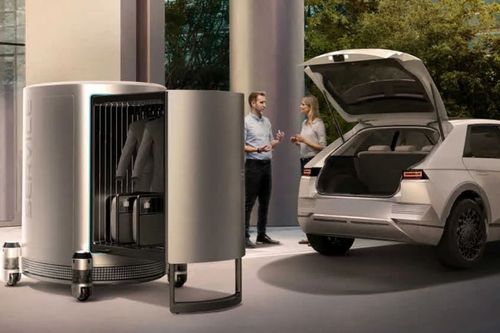 Hyundai unveils its vision on Metamobility, smart factory robots and personal transportation pods
Hyundai Motor Group set out its vision of robots that expand humanity's grasp for both work and leisure at CES 2022 Tuesday.
The biggest product update came with the preview of Hyundai's Plug-in-Drive concept. Housed in a cylindrical form factor with just a single wheel for transport, the PND looks like the base of moveable furniture.
And that's exactly what the PND is designed for, except its robotic operating system can hypothetically carry any inanimate object. A trailer video showed whole office plans automatically transforming as desks shifted around by themselves, each carried by multiple PND units.
Hyundai teased the manifold possibilities of its modular design. Short films imagined autonomous buses containing free-roaming personal pods that detach and take the passenger directly to their front door. A roving trauma center formed from PND-driven ambulances to treat patients at disaster sites was another highlight.
Hyundai regards robots as complementary to its core mobility business and believes there's a virtuous cycle that will accelerate innovation in both areas. It calls this vision "Metamobility," harking back to the Metaverse ideal.
This Metaverse vision of expansive and persistent virtual worlds is the industry Zeitgeist at CES this year. But Hyundai offered a fresh take by weaving robotics into the concept. It aims to build robots that are companions to people and their physical viaduct into the virtual sphere.
"Robotics will create a horizontal connection across our business areas and create new business systems that we call the unlimited mobility of things," said Chung Eui-sun, chairman of Hyundai Motor Group. "Like the metaverse, it builds a bridge between the physical world and new virtual realities."
Rather than replacing the car with robotics and mobility, Hyundai sought to portray the concept as evolutionary. Cars were now smart, living environments that would in the future feature intelligent axis and form part of mobility-as-a-service, said Chang-Hyeon Song, president and head of the company's transportation-as-a-service unit.
That same mobility through robotics is fuelling MaaS in the smart factory, Song added. A discussion followed about connecting the smart factory into the Metaverse, as Song joined Ulrich Homann, Microsoft's corporate vice president for cloud, and Marc Raibert, the chair of Hyundai-owned robot producer Boston Dynamics.
Microsoft is also a Hyundai partner and Homann took the opportunity to tout the company's IoT platform layer for building smart factory applications —including the Azure IoT cloud-to-edge and digital twin stacks as well as Microsoft Mesh, an avatar-driven mixed reality experience designed for remote collaboration projects.
"We're not just looking at a camera view of the factory floor, for example, we're going to sit there and be part on the floor working with the workers, and the robots and the machines to do the work while we might be in the U.S., or Korea, or wherever we might be," Homann said.
The presentation had struck a futurist tone right from the outset. Chung arrived accompanied by Boston Dynamic's multitalented four-legged Hyundai acquired Boston Dynamics last June.
Named and designed in tribute to the humble canine, Spot's personality catalyzes Hyundai's ambitions for companion robots.
This droid has a pet-like demeanor of its own, and can seamlessly navigate indoors and outside. It's dexterous enough to lift and carry fragile objects.
Spot already traverses parts of Earth that humanity shouldn't enter, according to Boston Dynamics' chair Marc Raibert. At Chernobyl, two Spot robots with radiation sensors help conduct inspections around the decimated reactor site. They'll need to be able to withstand the radiation. At the ruined Fukushima reactor in Japan, there's reportedly a scrapyard for failed robotic experiments.
"Hyundai and Boston Dynamics both envisage the future in which robots and people work together to improve the safety of productivity and broadly improve the quality of life," said Raibert. "In order to achieve that vision of companion robots we're going to need to achieve athletic intelligence, the ability to balance, to climb stairs and to move in any kind of terrain."
Boston Dynamics also markets a humanoid robot - Atlas - with bipedal motion. A third robot - Stretch - for warehouse robotics is expected to launch next year. It's also working with NASA's Jet Propulsion Laboratory to train robots for space exploration.
Keep up with the ever-evolving AI landscape
Unlock exclusive AI content by subscribing to our newsletter!!
You May Also Like
---