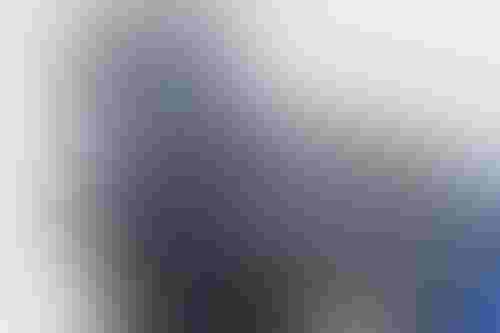 But remains reliant on Taiwan's chip foundries, which could prove a weakness

China's Cambricon Technologies has had an impressive initial public offering on Shanghai's tech-heavy STAR Market, raising $369 million.
The share price jumped in the first day of trading on Monday, reaching 358 percent, before settling at around 230 percent above listing price – valuing the company at roughly $12 billion.
The IPO comes as an escalating tech and trade war between the US and China has seen chip designers and manufacturers increasingly caught in the crossfire.
A Cambricon explosion
Cambricon began as a lab project in the state-backed Chinese Academy of Sciences, but was spun out as a business in 2016. It soon scored several major wins – developing server chips for Alibaba (which owns a small stake in the company), and phone chips for Huawei.
Huawei later shifted from licensing Cambricon tech to developing chips through its HiSilicon subsidiary, possibly due to concerns over looming US sanctions.
"Huawei Silicon has chosen to develop its own AI chips for end devices and has not extended the partnership with our company, and our AI chip business with other clients remains relatively small," Cambricon admitted in its IPO filing.
The exit proved devastating for the business, since was Huawei responsible for 98.34 percent of Cambricon's revenue in 2017, and 97.63 percent in 2018. When Huawei started using its own NPU design in 2019, that figure dropped to 14.34 percent, and has continued to plummet.
"Most of the other well-known Chinese smartphone makers are using established handset chips and solutions from Qualcomm and MediaTek."
Cambricon also noted that for enterprise server sales, it can't match companies like Nvidia, Intel, and AMD in areas such as "overall scale, capital reserve, resources for research and development and sales channels."
Still, the business claims that there are more than 100 million phones and servers out there featuring its chips – or at least, that include licensed aspects of its chip designs.
Cambricon's product line-up includes edge and mobile processors 1A, 1H, and 1M, and the company hopes to start shipping its Siyuan 220 at scale this year. For the cloud and data center market, it has the Siyuan 100 (MLU100) and Siyuan 270 (MLU270) chip and acceleration cards, and is testing the 7nm Siyuan 290.
After mixed success with mobile devices, Cambricon plans to double down on the potentially more stable cloud infrastructure market. In its IPO prospectus, it said that the money would primarily be spent on R&D for cloud AI chips used for training workloads, expanding its Neuware software development platform, and researching edge chips for robotics applications.
But the company faces a significant challenge that affects other Chinese chip designers – it has to look overseas for companies that can actually manufacture its products. Like Nvidia, AMD, Qualcomm and Apple, most of its products so far have been manufactured by Taiwan's TSMC.
Huawei used to do that, too. But the US sanctions ultimately barred TSMC from working with one of its largest customers, and Huawei was forced to scramble for alternatives.
It shifted much of its production to China's SMIC, but the domestic semiconductor manufacturer is significantly behind TSMC. In an effort to catch up, SMIC raised $7.58bn on the same Shanghai stock exchange – but still has a long way to go to compete, especially at the 7nm node level.
While Huawei has been the focus of the US ire for more than a decade, there is no indication that Cambricon is at a specific risk.
However, simply being a successful Chinese chip vendor could make the company a target, if the US-China relationships continue to deteriorate, its background is tied to the Chinese state, and it has several state-backed investors. Another investor, iFlytek, is currently sanctioned by the US government for alleged human rights abuses in Xinjiang.
It is thought such trade concerns prompted SMIC, Cambricon, and other Chinese tech companies to raise money in recent months as part of an effort to build a technological base that would allow them to weather potential sanctions or embargoes.
Keep up with the ever-evolving AI landscape
Unlock exclusive AI content by subscribing to our newsletter.
You May Also Like
---