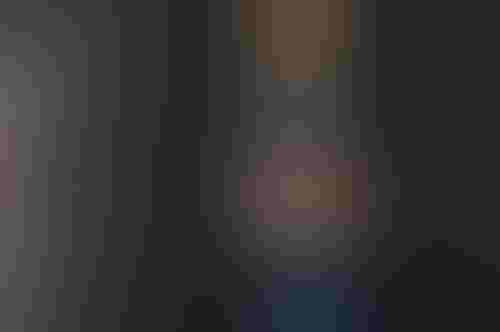 Skypods hope to fulfill your 3am retail therapy needs
Lille-based Exotec has raised $90m to fund the development of autonomous industrial robots for warehouses.
The company's Skypod 3D robots can move at speeds of up to 13 feet per second (8.8mph) horizontally, as well as up and down storage racks – as long as warehouses are using the company's proprietary rack systems, reaching heights of 32ft.
The round was led by London-based venture capital firm 83North, with participation from Dell Technologies Capital.
Robots take over the supply chain
The battery-powered robots use laser scanners to detect obstacles, and carry storage totes with inventory above them. The totes are then brought to Exotec workstations where human employees pick up the inventory for packaging.
Artificial intelligence software is used to optimize routes, particularly when numerous robots are zipping back and forth picking up different items.
"There is a global need for robotics solutions in warehouses, but logisticians are often concerned to invest in traditional fixed automation in this fast-changing world," said Romain Moulin, Exotec's founder and CEO.
The company added that the warehouse automation market had exploded amid the ongoing COVID-19 pandemic, which has seen many turn to online shopping.
This year saw business double for Exotec, as Carrefour and Fast Retailing (Uniqlo parent) signed up as customers, with the later deploying 1,000 Skypods at two of its warehouses in Japan. For the US expansion, Exotec has partnered with integrators AHS, S&H Systems, and Conveyco.
"Brands and retailers are seeing a tremendous surge in e-commerce, accelerated by the current pandemic," Rudi Lueg, Exotec's North American MD, said. "They must now transform their supply chain to gain competitive advantage."
Lay of the land
The company claims it is the largest of its kind, and expects to produce 4,000 robots a year by 2021. But Exotec faces significant competition in a field bursting with startups looking to disrupt warehouse automation.
Earlier this year, Locus Robotics raised $40m for its take on warehouse robotics – with systems that can carry more, but are unable to climb as high as Exotec's.
Others, like MusashiAI, are offering a wider skillset, including forklift functionality.
Then there are those that hope to solve the complex issue of picking and packing, including Dexterity, which came out of stealth this summer.
DHL Supply Chain, Microsoft, and Blue Yonder just want warehouse robots to work together, no matter the vendor, and are developing a single AI platform to run it all.
Of course, looming large above them all is Amazon. The e-commerce giant acquired warehouse robotics start-up Kiva Systems for $775 million back in 2012. It then let the company's contracts with retailers like Gap, Walgreens, and Staples expire, keeping all the robots for itself.
Amazon has since supplemented the tech with numerous smaller acquisitions, including the purchase of Canvas Technology last year.
As of June 2019, Amazon had more than 200,000 robots working in its warehouses. But it continues to rely heavily on humans, and has faced repeated accusations of poor working conditions.
Internal documents published this week by The Center for Investigative Reporting found that the company had a rate of 7.7 serious injuries per 100 employees, nearly double the industry standard; the number was higher in warehouses with more robots, as humans were forced to meet higher production quotas.
Keep up with the ever-evolving AI landscape
Unlock exclusive AI content by subscribing to our newsletter!!
You May Also Like
---