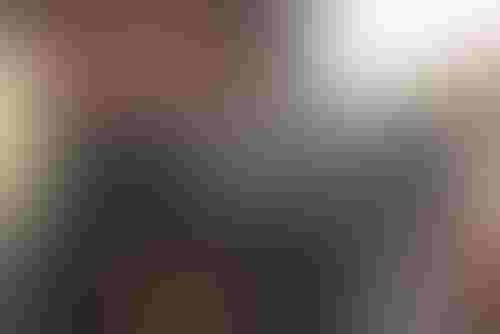 The processor was born after founders struggled to find chips for a potential low-power robotic system
American edge processing startup Quadric.io has unveiled a new chip for artificial intelligence and computer vision.
The q16 processor is built on Quadric's novel chip architecture, based on hybrid data-flow and Von Neumann machine principles.
Positioned as a general-purpose processor platform, the chip can run workloads including neural networks, machine learning, computer vision, DSP and basic linear algebra subprograms.
Enter the vortex
Key to the new chip architecture are what Quadric calls its 'Vortex cores,' but the company does not publicly disclose any details about their design. The first-generation q16 processor integrates a 16x16 array of the Vortex cores into a single chip.
The q16 is sold in an M.2 form factor, with the developer kit featuring 4GB of external memory directly mapped to the chip's universal memory space. It consumes 5.5W of power.
"With intelligence rapidly migrating from the cloud to the network edge, the full stack, from silicon to software, must be completely re-architected to meet the unique requirements of on-device AI," said Veerbhan Kheterpal, co-founder and CEO of Quadric.
"We've reimagined a general-purpose processor architecture and built it from scratch with the developer in mind. Developers want a versatile, high-performance processing platform that can support any type of AI and machine learning algorithm with an open ecosystem that gives them peace of mind and unleashes their design creativity."
The company was founded by Kheterpal, Daniel Firu, and Nigel Drego, who previously founded Bitcoin mining company called simply '21.' After raising $116 million and rebranding as Earn.com, it was acquired by Coinbase in 2018.
Quadric first tried its hand at agricultural robotics, planning to build systems capable of traveling through vineyards hunting for leaks or pests.
But the company realized that the power requirements of the robots would be too high due to the energy-intensive Nvidia and Intel products they had access to. Instead of building the bot, the company shifted to designing the chip it thought the industry was lacking.
Quadratic has raised $18m to date, primarily led by automotive components manufacturer Denso. But it is far from alone in looking to build low-powered edge chips for artificial intelligence workloads.
Earlier this year, Flex Logic raised $55m for AI inferencing at the edge, while Mythic launched a low-power analog AI chip. This week, Ambarella launched new security camera AI chips, joining companies like Edgecortix and AI Storm.
Keep up with the ever-evolving AI landscape
Unlock exclusive AI content by subscribing to our newsletter!!
You May Also Like
---