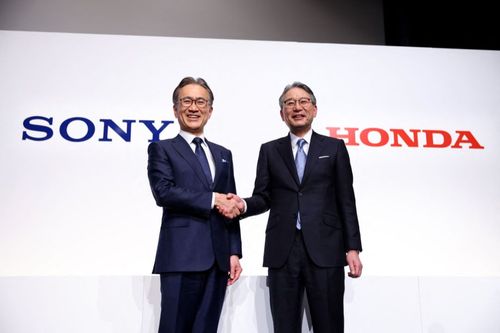 Pre-orders are expected to start in the first half of 2025
Sony and Honda have revealed more details about the first car they will produce as a result of the joint venture the pair announced earlier this year.
The Japanese giants signed a memorandum of understanding in March before confirming the formation of a new company, Sony Honda Mobility Inc. (SHM), in June.
Now SHM has announced that pre-orders of its new EV will commence in the first half of 2025, with deliveries getting underway in the United States in spring 2026 before Japan follows in the second half of that year.
As expected, automated functionality will play a key role in the project. SHM, which bills itself as a software mobility company, says the car will be defined by what it terms "the 3 As – Autonomy, Augmentation and Affinity," and "cutting-edge technologies" will be applied to deliver these.
While specifics are still a little thin on the ground, SHM has said that it aims to develop "Level 3 automated drive under limited conditions and to enable Level 2+ driver assistance in even more situations such as urban driving."
Level 2 is defined by the Society of Automotive Engineers as tech that supplies steering and driving support but requires constant supervision. Level 3, meanwhile, allows a driver to take their hands off the steering wheel as a car can drive itself in certain circumstances – but they must be ready to intervene if requested.
In addition, SHM has said it plans to use a high-performance system on a chip that is capable of more than 800 tera operations per second (TOPS) to process the self-driving features.
As has been previously communicated, Sony will provide the sensors and tech for these autonomous capabilities, while Honda will bring its vehicle manufacturing experience and after sales expertise to the project.
The "Augmentation" element of the enterprise sounds like it is designed to complement the autonomous capability of the car, with the recognition that less time actually spent driving frees up additional opportunities.
As such we are told the car will deliver a "personalized in-car experience through cloud-service connectivity, realizing entertainment beyond driving." SHM says it wants to integrate the real and virtual worlds and will be "exploring possibilities 
through digital innovations such as the metaverse." What this will actually mean in terms of user experience remains uncertain at this stage, but it's clear there will be more opportunity for occupants to interact with the car than ever before.
The focus on "Affinity" refers to SHM's intent to build an open community for automotive industry partners and creative leaders to work in tandem to develop new mobility entertainment.
However, there is still no indication yet as to what the vehicle will look like. Sony has previously provided clues of its thinking, exhibiting an electric sedan concept called the VISION-S at CES in Las Vegas in 2020, and an SUV version, the VISION-S 02, earlier this year.
SHM did confirm, though, that the car would be built at a Honda factory in North America. Earlier this month Honda confirmed a $700 million investment to retool three plants in Ohio for EV production, although it is not clear if the announcements are linked.
This article first appeared in sister publication IoT World Today. Click here to subscribe to their newsletter.
Keep up with the ever-evolving AI landscape
Unlock exclusive AI content by subscribing to our newsletter!!
You May Also Like
---