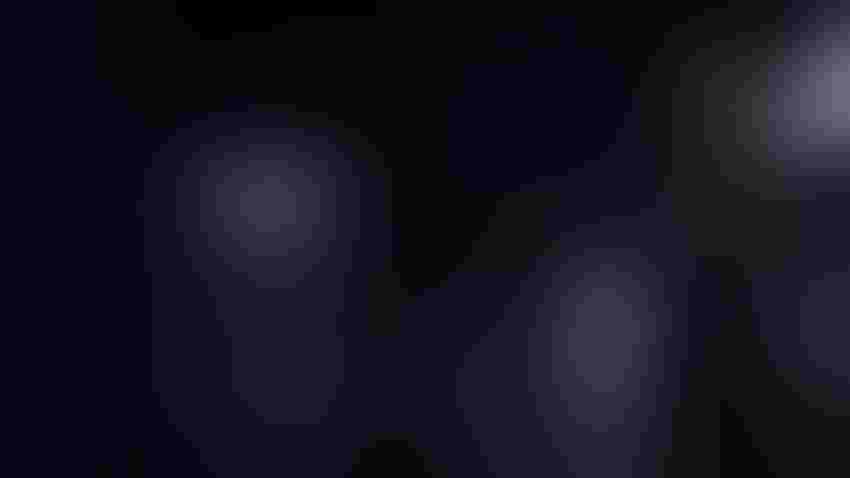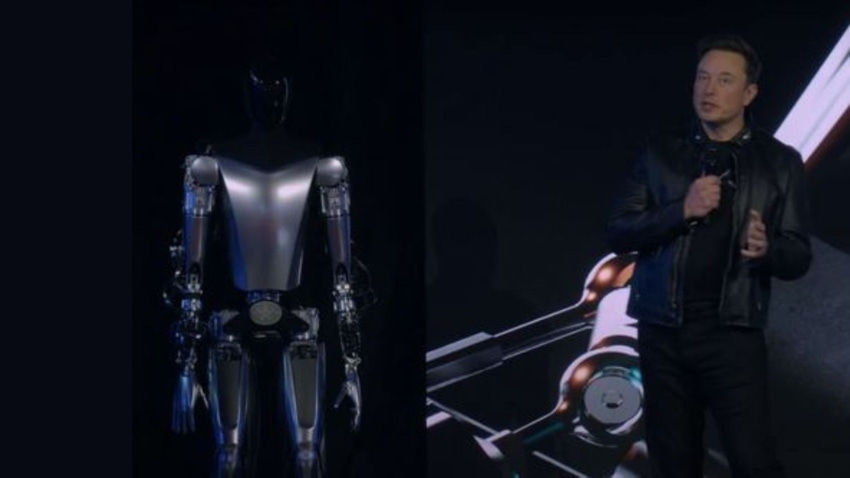 AI Business looks at some of the biggest takeaways from the second annual Tesla AI Day.
Tesla CEO Elon Musk unveiled his much-anticipated humanoid robot in the second annual Tesla AI Day, as the company continues to push plans to diversify away from solely automobiles.
Amid the pomp saw the reveal of the Tesla Optimus Bot − an actual prototype this time compared to last year's version, which was a man dressed in a robot suit.
Musk himself tried to tamp down the hype. "I do want to set some expectations with respect to our Optimus robot. As you know, last year it was just a person in a robot suit but we've come a long way."
There were also updates to the company's Dojo supercomputing platform and self-driving software.
Here are some of the biggest takeaways from the event.
Optimus: Impressive or underwhelming?
The Optimus bot was first teased at last year's AI Day. But instead of a guy in a suit, viewers saw an actual robot, although it couldn't walk. Instead, three people had to bring the limp metal lump onto the stage, where it simply waved.
Humanoid in design, Optimus weighs some 160 pounds and walks on two legs. It's designed to conduct physical work. Musk said Tesla plans to mass produce the bot – with a single Optimus costing around $20,000.
The robot will be equipped with a 2.3 kWh battery pack. It consumes around 100 watts of power sitting down and 500 watts when walking briskly. Each unit will house one Tesla SoC and will be both Wi-Fi and LTE capable. Like the company's automobile software, Optimus is designed to be updated over time.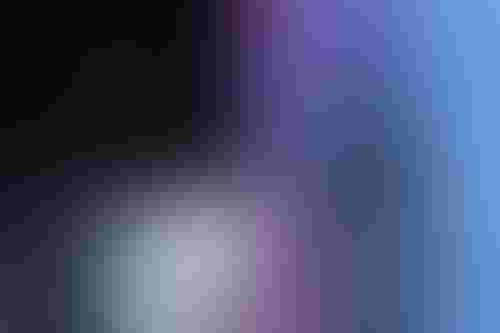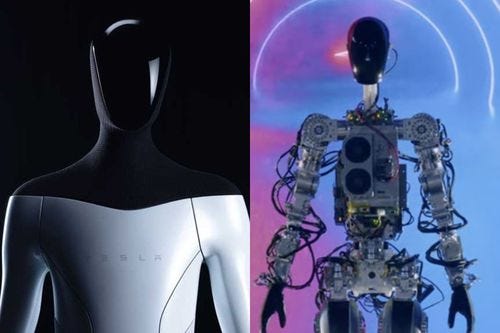 Tesla bot's reveal in 2021 vs. 2022
Many critics said the Optimus reveal was underwhelming. Musk himself alluded to it as well, telling the audience it can do much more than what was shown but his team "just didn't want it to fall on its face."
Optimus's reveal didn't exactly win over the AI experts who watched on. "None of this is cutting edge," tweeted Plus One Robotics's head of product Cynthia Yeung.
Social media was full of comparisons to bots like Boston Dynamics' Atlas and Honda's ASIMO – both of which were developed some years before Optimus and can outperform Tesla's version on several fronts.
But Tesla roboticists didn't have the length of time Boston Dynamics or Honda had for development. They began work on Optimus around the time Musk announced it last August, with the unit expected to launch in around three years.
Optimus only began walking in April, according to the company.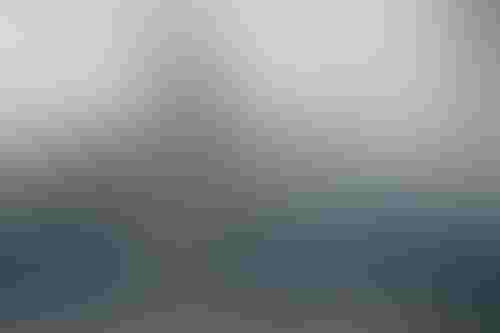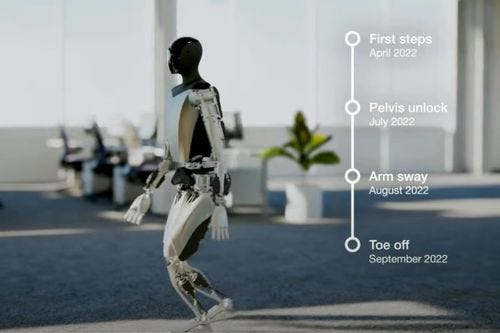 Evolution of Optimus's ability to walk
"What was most impressive to me was what the Optimus team was able to accomplish in such a short period of time," tweeted UCLA robotics expert Dennis Hong. "If you are in this field, you would agree, too. The prototype they have created will serve as an excellent beginning platform for them to learn from and to build upon."
Dojo: A supercomputer that can trip the power grid
At the event, Tesla also provided further insight into its secretive supercomputer project, Dojo. Dojo is part of Telsa's plans to use supercomputers to train self-driving car capabilities based on optical cameras, rather than Lidar.
At the company's AI Day 2022, a year since its initial reveal, Tesla revealed Dojo has gone from a chip and tile to a system tray and a full cabinet. Once completed, Dojo will be among the most powerful supercomputers in the world.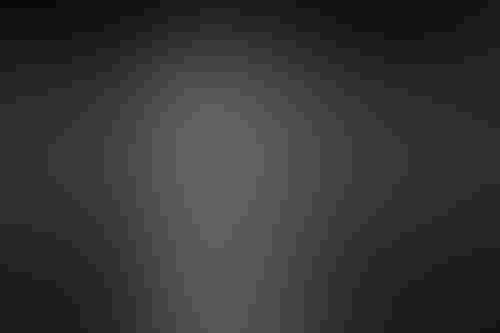 Dojo's cabinets will consist of 120 tiles that will hold a total of 3,000 custom D1 chips. Each cabinet contains trays consisting of 2 x 3 tiles. Each cabinet can produce 100 PFlops.
Upon initial tests of Dojo's power and cooling infrastructure earlier this year, the supercomputer was so powerful it tripped the local power substation.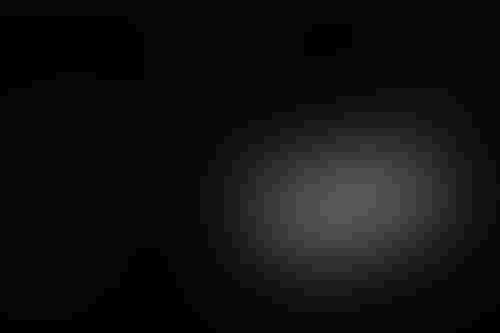 "We knew that we had to re-examine every aspect of the data center infrastructure in order to support our unprecedented power and cooling density. We brought in a fully-custom designed CDU to support Dojo's dense cooling requirements," Rajiv Kurian, Principal Engineer at Tesla said during the show.
"Since our Dojo cabinet integrates enough power and cooling to match an entire row of standard IT racks, we need to carefully design our cabinet and infrastructure together and we've already gone through several iterations of this cabinet to optimize this."
Self-driving tech update
Tesla also used AI Day to provide an update on its self-driving tech, which has been in the firing line in recent months amid class-action lawsuits over its capabilities, allegations of false advertising and numerous investigations by the National Highway Traffic Safety Administration into fatal crashes involving Teslas.
More than 160,000 drivers are now running the Beta software version of the Full Self Driving – up from 2,000 a year ago – and Musk claimed that the tech would be ready for a global rollout by the end of this year. Lack of regulatory approval in many markets will prevent this from happening, though.
Graham Hope of IoT World Today contributed to this report.
Keep up with the ever-evolving AI landscape
Unlock exclusive AI content by subscribing to our newsletter!!
You May Also Like
---