Ukraine War One Year On: How AI Has Shaped the Battlefield
Ukraine War One Year On: How AI Has Shaped the Battlefield
AI has given an edge to Ukraine, which many thought would fall quickly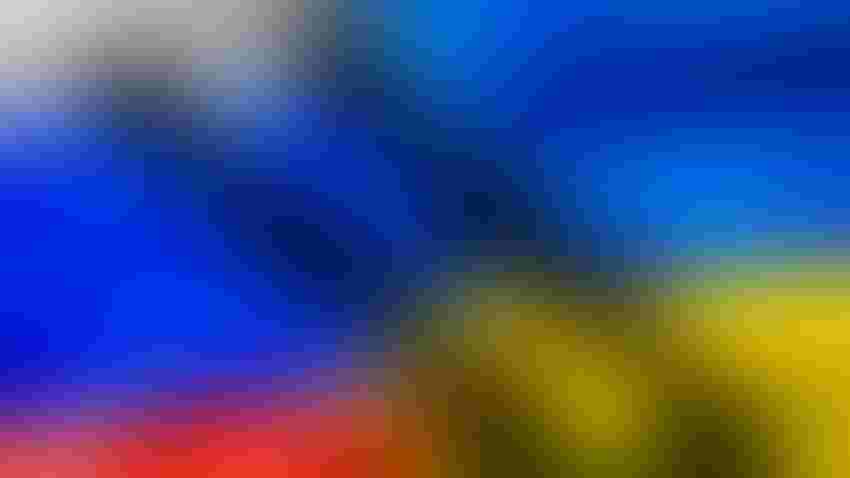 At a Glance
AI Business outlines the various AI and autonomous systems deployed on the battlefields of Ukraine.

The war in Ukraine has proved that autonomous and semi-autonomous drones have become a battlefield staple.

Russia's failure to deploy advanced technologies is part of the reason behind its failed blitzkrieg.
Exactly one year ago, Russian troops and armored tanks rumbled into Ukraine. Since the 2014 invasion of Crimea, Ukraine has stared down one of the largest military forces on the planet. On Feb. 24, 2022, Russia was at its doorstep once again, but with larger takeover ambitions.
What a difference a year makes. Russia had expected a swift victory, taking a page out of the German Blitzkrieg playbook from World War II, expecting Ukraine to fall without strong resistance. Many in the West expected the same. But today, Ukraine, nearly inexplicably, stands. Kyiv remains independent. Battered and bruised, but not out.
Ukraine pushed back its much larger invaders for most of 2022, reclaiming much of its Eastern territory and forcing the largely demoralized Russian forces into an effective stalemate, with forces dug in near Zaporizhzhia in southeastern Ukraine.
Ukraine's stubborn resistance originates from a combination of sheer will and desire to protect one's homeland, along with the latest technologies from Western allies, in contrast to Russia, which still largely depends on older technologies to gain ground.
From drones to targeting systems, AI Business takes a look at the cutting-edge technology being deployed in Ukraine.
Drones
One of the biggest technological advancements spurring the war in Ukraine is the use of drones.
Prior to the invasion, remotely piloted drones, such as the MQ-9 Reaper, mainly saw use in Afghanistan to take out targets from high in the sky, while loitering munitions, or 'kamikaze' drones, which intelligently implode upon contact with a target, have been used in Syria, Libya and Nagorno-Karabak, a disputed territory recognized as part of Azerbaijan.
The war in Ukraine has put drones squarely in the public's awareness and understanding of modern warfare. Older systems using modified video game controllers to pilot drones are giving way to the use of deep learning and facial recognition to power drones in the battlefield.
The rise of drones in the Ukraine conflict stems from the ease of access to 'off the shelf' systems allowing largely conscripted forces on both sides to seamlessly deploy them.
While both sides have used such drones, the vast majority have been intercepted – either by traditional munitions or surface-to-air (SAM) missiles, depending on the drone's size.
Russia has been seen using the Iranian-made Hesa Shahed-136 drone, designed to take out ground targets in a swarm. The Shahed is around 11 feet in length and carries a payload of between 66 to 110 pounds. Iran is also alleged to have supplied Shaheds to Houthi rebels in Yemen.
Russia has also deployed KUB-BLA drones, developed by ZALA Aero, a subsidiary of the Russian arms company Kalashnikov Group, to try and target government infrastructure. And in a major coup last June, a rare Russian Merlin-VR was shot down by Ukrainian forces. Developed by the Smolensk Research Institute of Modern Telecommunication Technologies, the Merlin is a secretive drone built for long-range surveillance.
Meanwhile, the defending Ukrainians have deployed Turkish-made Bayraktar-TB2s for reconnaissance, as well as U.S.-made Switchblade 300s. Switchblades are faster than the Turkish drones and are tiny, weighing just five pounds. They are designed to take out opposing forces. A larger Switchblade drone, the 600, can take out armored vehicles and tanks but no reports of it being deployed in Ukraine have surfaced.
Other loitering munitions deployed by defending forces include the DefendTex D40, provided by Australia, the WB Electronics Warmate sent by neighboring Poland and the RAM II, which is built off of the Leleka-100, by Ukraine's DEVIRO company.
The U.S. has also supplied Ukraine with Phoenix Ghost drones, a highly classified kamikaze drone developed by Aevex Aerospace. Barely any information on the Phoenix Ghost is available.
Ukraine has used its loitering munition supplies to target supply lines and military headquarters. A successful strike on the Russian naval base in Sevastopol crippled a vital supply port, while another strike on an oil refinery in Novoshakhtinsk, inside Russian territory near Rostov, caused significant damage to local energy supplies.
For surveillance, Ukraine has deployed a plethora of drones. For short-range operations, defending forces have used A-1-CM- Furias, ASU-1 Valkyrjas and DJI Mini 3s to monitor nearby enemy positions. Short-range drone solutions from American defense contractor AeroVironment were sent by the U.S. as well, including the RQ-11 Raven, RQ-20 Puma and Quantix Recon. The U.S. also provided short-range ScanEagle autonomous drones from Boeing.
For longer-range reconnaissance, Ukrainian forces have deployed Czech-made Primoco One 150s, courtesy of Luxembourg, as well as the PD-1, built by local defense company Ukrspecsystems.
And for very-short range missions, both the U.K. and Norwegian governments agreed to provide defending forces with the Black Hornet Nano, a micro UAV. These tiny drones measure around 6 inches by 1 inch and weigh just seven ounces. They're designed to provide ground troops with situational awareness − soldiers can use them to peak around corners or over walls. They can only fly for around 20 to 25 minutes, however.
Cyber
Hours before the first Russian boots stepped onto Ukrainian soil, an enormous cyber-attack hit Viasat, crippling the country's energy supplies – as well as others in central Europe.
The onset of the war in Ukraine showed the potential devastation nation-backed attackers can have on critical systems.
Since the annexation of Crimea in 2014, Ukraine became accustomed to likely Russian-originated cyber-attacks. But since the Viasat attack, no real cyber offensive has been quite so destructive, with Russia changing tactics to focus on intelligence collection.
Instead, Russia has been the focus of a sizable portion of cyber-attacks over the past 12 months. Shortly after the initial invasion, several hacker groups, including Anonymous, declared 'cyber war' against Russia and have moved to routinely take out both government portals and state news platforms.
Such efforts saw Russia listed as the nation with the most data breaches in 2022, according to figures published by cybersecurity firm Surfshark. Russia accounted for 40% of the 52 million individual breaches in Europe during Q3. Belarus, its ally in the war against Ukraine, saw a tripling of breaches compared to Q2, with some 539,000 accounts affected.
One tool that could be used to improve malware distribution is OpenAI's ChatGPT. Both Ukraine and Russia are geo-locked from using the application but Russian cybercriminals are reportedly accessing ChatGPT according to Check Point Research. Gaining access could enable hackers to improve malware through ChatGPT's code generation capabilities, however, given its reliability, such efforts may not pay dividends.
Ground and sea
Autonomy was not left in the skies above Ukraine, but on the ground and in the sea as well.
The Netherlands gifted Ukraine with SeaFox, an autonomous underwater drone used to detect mines. Both sides littered the Black Sea with many mines, posing a threat to naval vessels as well as grain-shipping routes that Moscow had previously blockaded.
Built by German company Atlas Elektronik, the SeaFox can automatically identify underwater objects within minutes using an integrated homing sonar. To destroy mines, it has a built-in large caliber-shaped charge and is effective against tethered mines, proud ground mines and floating mines. SeaFox is a smaller version of the SeaCat autonomous mine hunter solution, which Atlas Elektronik supplies to the British Royal Navy.
Away from the sea and onto the ground, a delivery of unmanned ground vehicles (UGVs) from Germany supported Ukrainian troops. The German government delivered a series of THeMIS units from Milrem Robotics. The THeMIS can be deployed across multiple battlefield roles, including armor support, ordnance disposal or transportation.
THeMIS runs off a hybrid diesel-electric engine and can carry around 1,650 pounds. Fitted with Lidar, thermal cameras and infrared cameras, it can travel at speeds of up to 12 miles an hour for up to 15 hours on its hybrid engine. NATO members France, Spain, the U.K. and the U.S. are among the nations to have acquired THeMIS prior to its deployment in Ukraine.
For the Russians, it was not what was on the battlefield, but rather what was absent in what it deployed. At the onset of the invasion, AI Businessbroke down the invading forces' AI arsenal, which included the Uran-9, a UGV developed by JSC 766 UPTK, also part of the Kalashnikov group.
After tests in Syria as well as the 2018 Vostok drills, the Uran-9 was officially adopted into the Russian Armed Forces in late 2021 for use in 2022. But no deployments of the heavily armored unit were seen in Ukraine.
One autonomous ground solution Russia has deployed however is the Uran-9's smaller cousin, dubbed 'the ripper.'
The Uran-6, built for clearing mines, was spotted in Ukraine's Luhansk region last May. Luhansk is part of Ukraine's eastern Donbas region controlled by Russian-backed separatists. However, Russia has recognized Luhansk as an independent republic.
The Uran-6 is fitted with blast-proof cameras that provide 360-degree views to guide the unit. It can be operated remotely by a single pilot using a remote control from a distance of 800 meters in open areas and 300 meters in urban areas.
Targeting systems
With drones filling the skies, and troops digging into trenches and urban strongholds, having a decent targeting system could provide forces with an effective advantage on the offensive and defensive.
Palantir, the U.S. software company, claims to have supplied Ukraine with AI solutions to improve targeting systems.
Palantir's Skykit autonomous intelligence centers were reportedly gifted to Ukraine. These house built-in monitors and rechargeable power supplies to process intelligence and data on the ground. Designed to improve decision-making and drone guidance, Palantir's software powers the Skykit, allowing soldiers to process data anywhere on the battlefield.
Palantir CEO Alex Karp has said Ukraine's use of emerging technologies has given it the edge over one of the world's foremost military powers.
Speaking at the REAIM event shortly before the war's first anniversary, Karp said militaries without advanced targeting capabilities and algorithms are handicapped in modern warfare.
"The old way of targeting where algorithms aren't used is clearly a failure. If you go into battle with old-school technology even if you're spending $65 billion a year and you're highly accomplished warfighters like Russia, and you have an adversary that knows how to install and implement digitalized targeting and AI, you're at a massive disadvantage."
To bring down the hail of missiles and artillery, Ukraine is making use of Zvook, an AI-powered acoustic monitoring solution.
Developed by a Ukrainian startup of the same name, Zvook, which means noise, detects missiles and enemy aircraft by evaluating acoustic signals. Designed to operate as a network of multiple devices, Zvook's sensors can pinpoint the object's speed and direction, enabling defenders to intercept accurately and effectively.
Keep up with the ever-evolving AI landscape
Unlock exclusive AI content by subscribing to our newsletter!!
You May Also Like
---