Waymo partners with Daimler for self-driving trucks
Waymo partners with Daimler for self-driving trucks
Autonomous freight delivery gets one step closer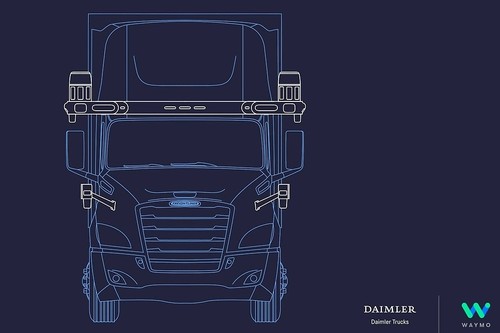 Autonomous freight delivery gets one step closer
Google's sister company Waymo has entered into a strategic partnership with Daimler to build autonomous trucks.
As part of the project, the parent of Mercedes-Benz plans to build a self-driving version of Freightliner Cascadia, a heavy-duty semi-trailer truck capable of Level 4 autonomous control.
As defined by the Society of Automotive Engineers, Level 4 systems can operate without a human driver behind the wheel, but only in certain areas (perhaps a geofenced highway), or under specific conditions (like good weather).
Together, but not exclusively
Waymo operates a Level 4 ride-hailing service in Phoenix, Arizona, and is generally considered the market leader in autonomous driving software. Its systems have racked up 20 million miles on public roads across 25 US cities and 15 billion miles in simulation - but most of that is autonomous passenger cars, not trucks.
After a decade of autonomous vehicle research, Waymo expanded to testing trucks in 2018. The pilot project saw a small fleet of autonomous trucks help deliver inventory to its data centers in Atlanta.
Now it plans to capitalize on the research by partnering with Daimler Trucks, which operates under six brands: Mercedes-Benz Trucks, Freightliner Trucks, Western Star, FUSO Trucks, BharatBenz Trucks, and Thomas Built Buses. Together, the brands form the world's largest truck company.
"The combination of increased road freight volumes and the need and vision of fleet operators for highly automated trucks, is what fuels our relentless pursuit of innovation," said Roger Nielsen, president and CEO of Daimler Trucks North America.
"Based on our collaboration with Waymo, we will be in the unique position to be able to provide our fleet customers with a choice among the best solutions for their individual requirements."
The company noted that the deal is not exclusive. Daimler has its own self-driving research, some of which will be integrated into the partnership, and some of which will not.
In 2019, Daimler acquired a majority stake in Torc Robotics, an autonomous vehicle startup. Born in the same DARPA self-driving challenge that led to the creation of the  'Google Self-Driving Car Project,' Torc previously developed autonomous systems for the US military.
"This partnership complements Daimler Trucks' dual strategy approach, of working with two strong partners to deliver autonomous L4 solutions that are seamlessly integrated with our best-in-class trucks, to our customers," Martin Daum, board chairman at Daimler Truck, said.
Waymo will not be tied exclusively to Daimler either, having signed agreements with Nissan-Renault, Fiat Chrysler, Jaguar Land Rover, and Volvo for car and van projects.
"We have the highest regard for Daimler's engineering skills and broad global truck product portfolio, and so we look forward to scaling the Waymo Driver, together with our new partner, to improve road safety and logistics efficiency on the world's roadways," John Krafcik, CEO of Waymo, said.
Together with Daimler, Waymo - which raised $3bn this year - will compete against a slew of well-funded self-driving truck startups including TuSimple, Ike, Embark, and Plus.ai.
But they will not have to face competition from Uber, which entered the race with the $680m acquisition of self-driving company Otto back in 2016.
Otto was founded by a former Waymo engineer, who was sentenced to 18 months earlier this year for stealing the company's trade secrets, and using them at Otto and Uber. In light of the legal issues - and the fatal accident involving one of its autonomous cars in 2018 -  the company stepped back from self-driving truck research. 
Keep up with the ever-evolving AI landscape
Unlock exclusive AI content by subscribing to our newsletter!!
You May Also Like
---