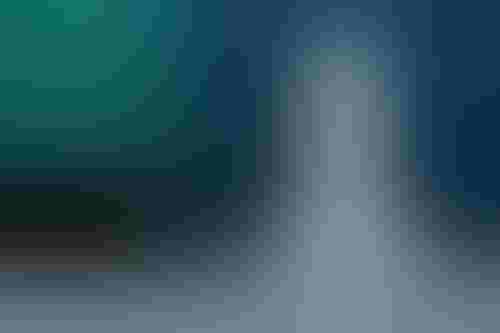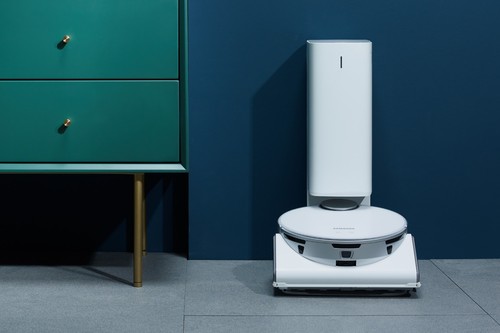 That hoover looks like Marvin The Paranoid Android
Samsung has revealed the latest additions to its artificially-intelligent household appliance range at CES 2021.
These include a smart vacuum cleaner looking to dethrone Roomba, and a stackable washer and dryer combo that can recognize laundry and adopt the program accordingly.
One might wonder whether AI is really necessary when it comes to household chores; the company's senior VP and general manager for home appliances, John Herrington, argues that "by automating your floor care and learning your laundry preferences, these new home appliances remove items from your to-do list, freeing you up to do more of what you love."
The new products, he said, will "inspire families, while helping make life at home easier in ways not thought of before."
The JetBot 90 AI+

Samsung's JetBot 90 AI+ Vacuum relies on LiDAR to map its environment, and an unspecified "3D sensor" to distinguish between objects and detect smaller items in a room. Processing hardware is supplied by Intel.
The company says its object recognition algorithm enables that the vacuum to identify fragile objects and contaminated items to steer clear of.
The JetBot 90 AI+ offers 30W of suction power, self-cleaning brushes, and knows to return to a disposal dock when it is full.
An additional mounted camera and remote control app makes it possible to direct the machine and terrorize pets and small children.
The 8800 Series Smart Dial Front Load washer and dryer
Samsung has also unveiled stackable, AI-powered washer and dryer units, which rely on machine learning to prioritize user's favorite washing modes and times, and optimize detergent use and duration of wash.
As with the vacuum cleaner, both machines can be controlled remotely and user can be alerted of cycle times via a dedicated app.
A brief history of vacuum cleaners
Vacuum cleaners have been around in some form since the late 1800s. These were manual, upright contraptions with rotating brushes and bellows for suction, but weren't designed for household use.
Much of the innovation in the field took place in the early 1900s, with the invention of the Hoover, the world's first portable electric vacuum cleaner, which was in fact designed by a department store worker, James Murray Spangler, who, lacking the funds to produce his prototype en masse, sold the rights to William Henry Hoover.
It was only in the post-war period that vacuum cleaners became a common household item; different configurations came around using a variety of filtration and waste disposal methods; upright machines; wheel-mounted ones with a separate canister; wet and dry models; the cyclonic vacuum championed by the UK's Dyson.
Newly-engineered technologies included filterless cyclonic dirt separation machines; a hovercraft-like contraption called the Hoover Constellation that floats in mid-air; central vacuum cleaners in apartment blocks and office buildings, and – as battery technologies improved – the cordless, autonomous robotic vacuum cleaners.
Most well-known is the Roomba, but alternative brands Neato and bObsweep also hold a considerable share of the market; Neato in particular was behind the first vacuum to use a form of LiDAR to map spaces and clean in a more methodical manner.
The introduction of advanced AI technologies is likely to give Samsung's autonomous vacuum more appeal than its predecessors – though the price tag, as history has shown with cutting-edge inventions – might not.
Keep up with the ever-evolving AI landscape
Unlock exclusive AI content by subscribing to our newsletter.
You May Also Like
---