DSEI 2021: BAE Systems developing quadcopter drone for ship-to-shore logistics
DSEI 2021: BAE Systems developing quadcopter drone for ship-to-shore logistics
T-650 can also be deployed for humanitarian purposes and casualty evacuation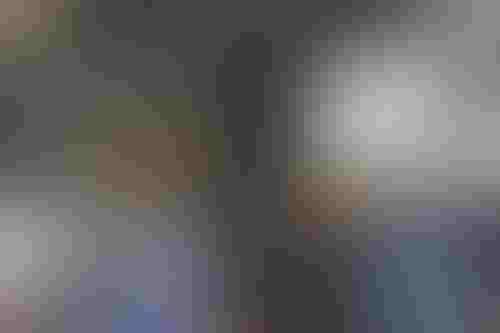 T-650 can also be deployed for humanitarian purposes and casualty evacuation
BAE Systems is teaming up with British aeronautics firm Malloy to develop an all-electric heavy-lift unmanned aircraft system (UAS).
The T-650 will have a top speed of 140 kilometers per hour and can carry a 300kg payload with a range of 30 kilometers.
"It's fantastic to be working with Malloy Aeronautics on this ground-breaking technology," said Dave Holmes, director for advanced projects, technology, and manufacturing at BAE Systems Air Sector.
"Bringing together Malloy's proven track record of innovative technology in this field, with our understanding of the military operating environment and extensive engineering and systems integration experience, will enable us to develop a sustainable and cost-effective solution for both military and commercial customers."
Heavy-lift
Malloy was founded in 2007. The company began by developing 'hoverbikes' – single-seater, turbo-fan powered, vertical take-off and landing (VTOL) quadrocopters.
Powered by a petrol engine, its hoverbikes can be piloted with minimal training – or fly autonomously – and carry a 130 kg payload at a speed of 96 km/h.
The vehicles were originally intended to help herd cattle in Australia.
Malloy has since focused its attention on heavy-lift drones for delivering fast aid, equipment, and people over buildings, rivers, and mountains.
The company opted to move into logistics following talks with the US Army, Oriol Badia, its CEO, told a press gathering at DSEI 2021.
He told attendees that the assembly and design of its drones is done entirely by the company in the UK – down to vehicle batteries.
Badia revealed that its lithium-ion batteries use cooling cells, and the Malloy team is conducting ongoing experiments with other power generation devices to double or triple the range.
For the last two years, the company has been working with the Royal Marines to deliver logistics from ship to shore, Badia said, hoping to create capabilities suitable for both military and humanitarian purposes.
To 'fill the gap between drones and helicopters'
Showing off the concept vehicle at DSEI, BAE said the T-650 could be used for a range of applications such as performing ship-to-ship and ship-to-shore movements to support military and security operations and logistics.
The vehicle would be electric, with Holmes emphasizing BAE's commitment to achieving net-zero by 2030.
He told the DSEI press gathering that the zero-carbon, unmanned system could revolutionize military operations – with Badia describing it as "a completely new vehicle" that fills the gap between drones and helicopters.
The T-650 is not expected to be in the hands of customers until early 2023, the pair said, with more rigorous testing set to take place in the second half of next year.
Joint flight trials will be conducted at BAE's center in Warton, Lancashire.
The model at DISA was displayed carrying a 285 kilo Sting Ray torpedo – an acoustic homing torpedo designed to take out submarines. It was originally manufactured by GEC-Marconi, which was later bought out by BAE Systems.
Despite being fitted with a submarine deterrent, BAE stressed that the T-650 could be used for maritime search and rescue, and casualty evacuation.
"Our goal is to work together with BAE Systems to ensure that our capabilities are not just the first and best for defense, but that they become the future workhorse to keep all our personnel safe," Badia said.
Who owns what?
AI Business asked about who would own the IP associated with the new vehicle.
Holmes stressed that while the companies work together, the importance for an SME like Malloy was to own what they created.
"Malloy brings capability around the package while we bring ruggedized know-how and the ability to get into the user community," Holmes said, adding, "Malloy are experts in their craft and best of British, it seemed an obvious place for us to start."
Keep up with the ever-evolving AI landscape
Unlock exclusive AI content by subscribing to our newsletter.
You May Also Like
---