Honda is testing autonomous vehicles for construction sites
Honda is testing autonomous vehicles for construction sites
No commercialization plans yet – the company is focused on 'further improving performance and design'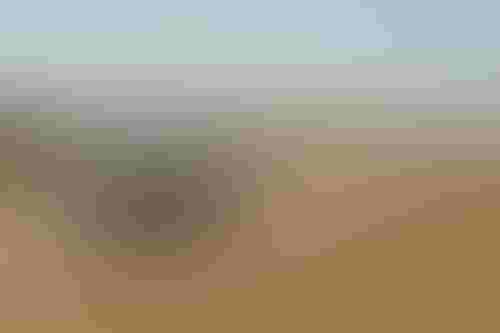 Honda is testing a prototype autonomous work vehicle (AWV) for use on construction sites.
The unusual machine was trialed on a site in New Mexico, as part of a partnership with engineering firm Black & Veatch.
The month-long field test saw the electric unit perform tasks like towing and transporting materials as part of a large-scale solar energy construction project. The vehicle carried construction materials, water, and other supplies to pre-set destinations.
"We believe the Honda AWV has the potential to bring greater efficiencies, higher levels of safety, and better environmental performance to the construction industry, and to other industries seeking an autonomous off-road solution," said Kenton Williams, US project lead for the Honda AWV.
You can see the AWV in action below:
Vegas to New Mexico on six hours charge
The AWV was first unveiled at CES 2018 in Las Vegas where the Japanese automobile giant showed off several concepts for mobility and companionship robots.
The 3E-A18 was designed to support emotional wellbeing. The 3E-C18 was a robotic cargo carrier for indoor and outdoor use, and the 3E-B18 was built to carry luggage. But it was the 3E-D18 – an autonomous off-road vehicle – that moved form concept towards production, and became the basis for Honda's new AWV.
That initial concept unit was based on Honda's ATV chassis, encapsulated all-wheel drive, and could traverse multiple terrain types.
The latest generation of the AWV can autonomously travel around 30 miles depending on the use case, while boasting a maximum loading capacity of 880lbs.
The electric unit takes up to six hours to charge and employs a suite of sensors to operate autonomously, using GPS for location, radar and lidar for obstacle detection, and stereoscopic (3D) cameras for remote monitoring. The vehicle can be operated by remote control.
The AWV has been tested on construction sites, but the latest test is the first to see multiple units deployed simultaneously.
The autonomous work vehicle "aligns with our focus on advancing the industry through new and innovative ways to work at project sites," said Mario Azar, president of global power business at Black & Veatch.
Tests done – more to come?
Honda said it chose to experiment with a solar energy construction site as support structures for solar panels are "laid out in a grid pattern at regular intervals."
"The site was an ideal environment to test the ability of the Honda AWV to stop at precise points along a pre-set route," the company said.
As part of the project, an HD map of the 1,000-acre site was created by Honda, with Black & Veatch operators choosing the start and stop points for the AWVs using a cloud-based app interface that ran on tablets and PCs.
The vehicles successfully delivered materials and supplies along a calculated route and proved capable of stopping within centimeters of the pre-set points.
Black & Veatch's on-site employees were trained by Honda engineers on the vehicle's operations; meanwhile the construction firm provided feedback on product and business requirements.
Following field tests, Honda said it believes the AWV "will be capable of providing a wide range of services to a variety of industries that need a rugged off-road autonomous solution, especially where workforce constraints and safety concerns make other solutions impractical."
Honda said it plans on further improving the unit's performance and design specs — but has no commercialization timeline at present.
Keep up with the ever-evolving AI landscape
Unlock exclusive AI content by subscribing to our newsletter!!
You May Also Like
---