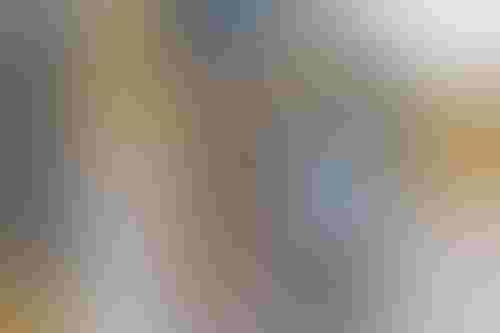 Robots and supply chains have always been perfect companions. When it comes to implementing automation, the industry is a great fit for machines that thrive on routines and protocol.
Today's industrial robots are a world away from the early robotic arms pioneered by heavy manufacturing plants in the 1960s. 
They have been supplanted by nimble and intelligent devices, expertly navigating the maze of their surroundings. 
The orchestration of picking, sorting, and storage is optimized thanks to systems capable of interpreting visual data, enabling human workers to increase productivity and switch to higher-level tasks. 
Recent advances in artificial intelligence software have enabled automation across an ever-growing number of supply chain processes. 
Often the robotics software is sold alongside the hardware as part of a single commercial license. 
But, as Boston Dynamics' CEO Marc Raibert has observed, robotics could one day make a bigger impact on society than even the Internet did. 
The hardware side is already a highly diverse, rich ecosystem. 
So it follows that developers want to look beyond the existing commercial software model, to improve cross-compatibility across different robotic operating systems.
Such versatility is particularly important in logistics, where each package requires prioritization and assignment according to the unique data labels that determine delivery. 
Image: DHL
DHL strategy analysis
Aggregating the various robotic software outputs can help make the integration less time-consuming while improving visibility into the sorting process. 
Blue Yonder is among the pioneers in this area with its cloud-native Robotics Hub, designed to accelerate the process of integrating robots from different vendors. 
The artificial intelligence-driven platform is built on Microsoft Azure, and is currently used by logistics giant DHL to manage its robot fleet.
Robotics Hub serves as a plug-and-play intermediary to DHL's various robotic management systems. It works by translating each logistics task into a common automation language that a robot can use to fulfill orders by transferring items from the warehouse.
Operators can quickly determine their robot fleet's current status and check which tasks are currently being performed, as well as provide estimates on how much of the daily workload has been completed. 
Because the software is language-agnostic, the burden on DHL's programmers has been massively ger a need to manually code for each individual vendor's operating system.
With over 1.6 billion parcels delivered across 220 countries, DHL has been one of the industry's biggest beneficiaries of robotic orchestration software, which has helped the company navigate through the disruption of the global pandemic. 
Its distribution center in Madrid has seen integration times for its robot fleet reduced by 60% since it started using the platform, and the firm expects reduced friction from redeploying robots across its global logistics sites.
The upshot is that emerging e-commerce start-ups seeking a foothold with today's ever-impatient consumers can hit the ground running, as DHL can build customized delivery services to get them the goods quicker.
Markus Voss, CIO and COO for supply chain at Deutsche Post DHL Group, said: "The robotics hub is a key component of our strategy, as part of our centralized digitalization initiative. There are 700 projects already completed, with 200 already on the go. With this we will make the digital supply chain a reality."
Girish Rishi, chief executive at Blue Yonder, said: "Every once in a while, a development takes place that changes the future of the industry for the better. Our co-innovation partnership around the robotics hub is one such example.
"We are incredibly honored and privileged to be partnering with DHL to take this formidable step forward in the world of logistics."
Image: Blue Yonder's Robotics Hub
A sense of place
As well as better fleet orchestration, there's a market opportunity for common software systems that can run on all sorts of robotic hardware. 
SLAMcore, a five-year old start-up in the UK, is one of the leading players in this area. Its AI-driven technology aims to mirror the visual systems of humans and animals, utilizing the concept of parallax, whereby objects closer to the eye appear to move quicker than objects further away. 
This helps build a 3D estimate of where the robot's camera is in space, relative to the world around it.
Owen Nicholson, chief executive at SLAMcore, said: "We can use this to calculate the amount of movement that [the vision software] sees within each frame.
"Because all distances of each feature from the robot's camera differ, we can use these natural points to calculate the amount the camera has moved."
SLAMcore's software acts as the positioning system for robots, also known as simultaneous localization and mapping (SLAM). 
The company has won its share of plaudits, and Nicholson claims it has the only technology to intrinsically mesh all parts of the autonomous perception process – from positioning to object recognition.
SLAMcore's software suite launched earlier this year, and Nicholson pointed out there are significant lead times for building robotic positioning that actually works. The system takes images of the robot's surroundings at 30 frames per second and must rapidly scour each for information before loading up the next one.
Nicholson added: "One of the most important and challenging parts of building an affordable robotic system using vision is there's no point of knowing five seconds or even half a second late what the position is, or if you're about to crash into something, because you need to be able to adjust that in real-time."
"It's a constant iteration of position-move-position-move-position. You need to know there and then, so you can adjust the amount of movement or power you give to the wheels or legs, to navigate effectively."
To read more about how AI can help predict and prevent disruption in the supply chain, check out our eBook: 'AI in supply chains: Helping businesses respond to change'
Keep up with the ever-evolving AI landscape
Unlock exclusive AI content by subscribing to our newsletter!!
You May Also Like
---