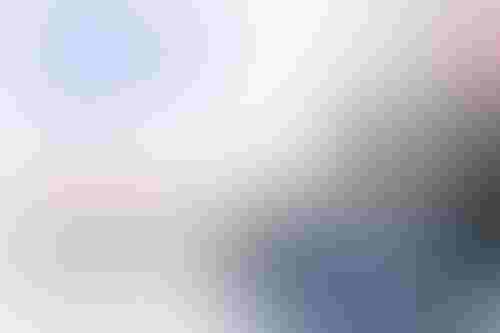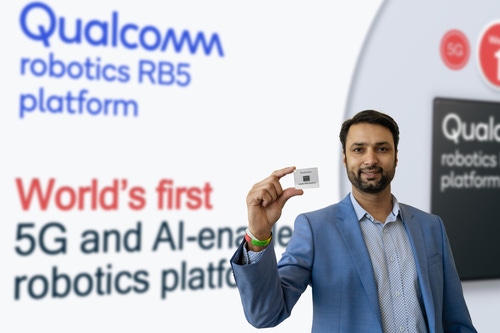 Needs blockchain, quantum to win buzzword bingo
Semiconductor and wireless tech specialist Qualcomm Technologies has launched a robotics platform with full support for 5G and artificial intelligence technologies.
The Qualcomm Robotics RB5 is a set of hardware and software tools for developers and manufacturers that can be used to build power-efficient robots and drones for enterprise, industrial and professional service applications.
Come for the drones, stay for the ping-pong
The platform uses the Qualcomm QRB5165 SoC, a version of the Snapdragon chip found in smartphones, customized for robotics applications. It consists of the octa-core Qualcomm Kryo 858 CPU, and Adreno 650 GPU, along with multiple DSPs.
It also features the fifth-generation Qualcomm AI Engine, capable of 15 Teraops of AI performance, and a Hexagon Tensor Accelerator, an image signal processor (ISP) that supports seven concurrent cameras, and a dedicated computer vision engine for enhanced video analytics (EVA).
With a companion module, RB5 features both 4G and 5G connectivity.
Compliant with the 96Boards open hardware specification, the development board supports various mezzanine-style expansions. OS choices include several distributions of Linux and Robot Operating System (ROS) 2.
"By applying its deep-rooted mobile systems expertise to the robotics industry, Qualcomm Technologies is helping to enable the creation of more powerful, secure, and intelligent robots than ever before," Dev Singh, Qualcomm's head of autonomous robotics, drones, and intelligent machines, said.
"With the Qualcomm Robotics RB5 platform, Qualcomm Technologies will help accelerate growth in a wide array of robotics segments such as autonomous mobile robots (AMR), delivery, inspection, inventory, industrial, collaborative robots and unmanned aerial vehicles (UAVs), enabling Industry 4.0 robotics use cases, and laying the foundation for the UAV Traffic Management (UTM) space."
Along with the platform launch, the company also announced more than 20 early adopters, and 30 ecosystem partners developing additional hardware and software. These include Acontis, AlwaysAI, Augmented Pixels, Canonical, DeepEdge.ai, DreamVu, Dronecode, Fractal.ai, Intel RealSense, Open Robotics, Panasonic, PathPartners, Pilot.AI, Shoreline IoT, Thundercomm, and Tier IV.
"The new Qualcomm Robotics RB5 platform is a game-changer for drones and autonomous robotics, as its machine learning accelerators will allow adopters to replace manual inputs with AI," Lorenz Meier, Dronecode chairman, said.
South Korean tech giant LG said that it was evaluating RB5 "and plans to introduce next-generation robotic products based on the platform next year."
Also of note is FLIR, best known for its thermal cameras, with company VP Roger Wells claiming RB5 "will offer a critical advantage for our next-generation unmanned systems." In 2019, FLIR acquired iRobot's military and law enforcement robotics division for $385m.
Another company exploring military applications is ModalAI, with CEO Chad Sweet saying that the platform "will enable new autonomous drone experiences, such as navigating quickly through tight spaces while mapping the environment for objects of interest."
He added: We look forward to... integrating the Qualcomm Robotics RB5 platform to build off of our existing work with the Defense Innovation Unit to expand the capabilities of our sUAS [small unmanned aircraft systems] platforms."
Qualcomm's partners have plenty of other target markets in mind besides the military – NXT Robotics is considering the platform for its security robots, AutoCore wants to win in the industrial machinery space, and Meituan hopes to deploy it in small delivery vehicles.
Siasun, meanwhile, has the Pongbot – a ping-pong robot.
Keep up with the ever-evolving AI landscape
Unlock exclusive AI content by subscribing to our newsletter.
You May Also Like
---