Super Bowl 2022: Spot drinks beer, robotic ramen and crypto ads
Super Bowl 2022: Spot drinks beer, robotic ramen and crypto ads
Prices for 30-second ad spots hit a new record of $7 million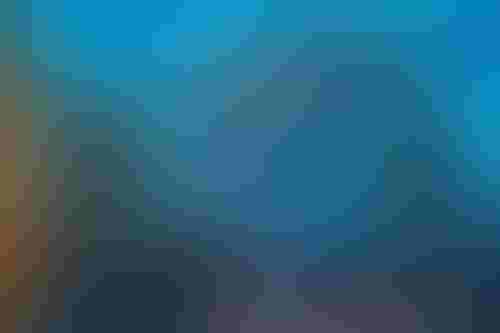 Prices for 30-second ad spots hit a new record of $7 million.
Advertising in the Super Bowl has always been pricey, but Super Bowl LVI hit a new record: $7 million for a 30-second spot.
NBC Sports, which will be airing the big game on Feb. 13, said in-game ad spots substantially are sold out across NBC, Telemundo and all its digital platforms.
This year, AI will be featured in several advertising and marketing efforts at the Super Bowl: from robot dogs and crypto to robotic vending machines.
AI Business outlines all the AI goodness from this year's Super Bowl that you may have missed.
Spot the bot gets drunk
Boston Dynamics's Spot is one of the most famous robots in the world.
After recreating The Rolling Stones' Start Me Up music video and appearing on the Tonight Show, the four-legged yellow robot and his bot friends will star in a Super Bowl ad for beermaker Sam Adams.
In the ad, two security guards are chilling out with a beer and offer Spot a can. The dog-like robot then 'drinks' it and other robots join in the party. Atlas bots, which went viral for their parkour skills, were present, as was Stretch, its automated warehouse handling unit, among others.
The human and robots party quickly devolve into office shenanigans, such as an Atlas bot sitting on a copier to take pictures of its hind quarters.
Crypto advertises in the Super Bowl
Crypto exchange FTX will be advertising in the big game for the first time. It also be giving away free bitcoin whenever its ad runs. Newly retired NFL quarterback great Tom Brady has been in FTX ads.
Coinbase and Crypto.com also are airing Super Bowl ads, according to The Wall Street Journal. Crypto.com is running an ad now featuring actor Matt Damon.
According to sponsorship consultancy IEG, the crypto industry is new to sports sponsorship and yet it is annually outspending airlines, quick-service restaurants, and wine and spirits companies.
Robo ramen for hungry revelers
Tailgating, the popular tradition of football fans having parties from the trunk of their cars in the stadium parking lot, has faced restrictions from NFL and sports officials for years.
But pre-parties always occur near the stadium, and one robotic vending machine is hoping to bring ramen to hungry fans prior to kick-off.
San Francisco area-based Yo-Kai Express is bringing its new Ramen bot to the Super Bowl pre-party.
Dubbed Yatai, the unit is an electric-powered mobile restaurant that provides hungry customers with authentic Japanese ramen – including Tonkotsu, Kimchi and Vegan Udon.
Its vending machines are cashless, with customers able to preorder food that the unit assembles and dispenses. Yatai has appeared at the Ontario International Airport in Southern California.
Kia's Robo Dog with a charitable message
Automaker Kia went for a robotics approach for its Super Bowl ads too. But unlike Boston Dynamic's Spot, its 'Robo Dog' is CGI.
In the ad, the lonely robot pup chases a Kia electric vehicle while Bonnie Tyler's "Total Eclipse of the Heart" plays in the background. It catches up to the EV's driver, who takes in the delighted puppy.
The campaign promotes the Petfinder Foundation, which supports animal shelters. Viewers are asked to scan a QR code which then provides a link to the Petfinder site where they can find dogs looking for a forever home.
Alexa, read my mind
It wasn't just robotics that appeared in Super Bowl ads this year, but voice assistants too – specially Amazon's Alexa, who supposedly 'read the minds' of actor Scarlett Johansson and comedian Colin Jost.
The advert sees the pair imagine if Amazon's AI-based assistant could read their minds and work smart devices as a result of the couple's respective annoyances.
After a series of mishaps, the pair, who are married in real life, agree that smart voice assistants should not have the ability to read minds.
Israeli AI firm returns to Super Bowl
It's not just mainstream tech firms such as Amazon and Facebook that are advertising during the Super Bowl, but lesser-known AI brands too.
Israeli firm Gong.io, which develops AI-based revenue intelligence platforms, is spending some big cash to take an ad spot during the spectacle. In a hilarious commercial, the company gives its sales team each a gong – resulting in too many gongs drowning out the TV spokesman.
Its Super Bowl commercial "communicates the benefits of the Gong Reality Platform in a fun, visceral way," the company said.
The ad first ran on Jan. 30 during the NFC Championship game. Gong also aired a commercial in last year's Super Bowl, targeting the Seattle, San Francisco and New York markets. The company said the ad helped create its "biggest-ever sales pipeline and strong social media buzz."
This year's ad will run again in the San Francisco Bay area and expands to Chicago and Boston.
Keep up with the ever-evolving AI landscape
Unlock exclusive AI content by subscribing to our newsletter.
You May Also Like
---