OpenAI, Alphabet CEOs on World Tour to Tout Governance
OpenAI, Alphabet CEOs on World Tour to Tout Governance
The U.K. and EU are the latest governments to ask for reassurance that advanced AI will have guardrails.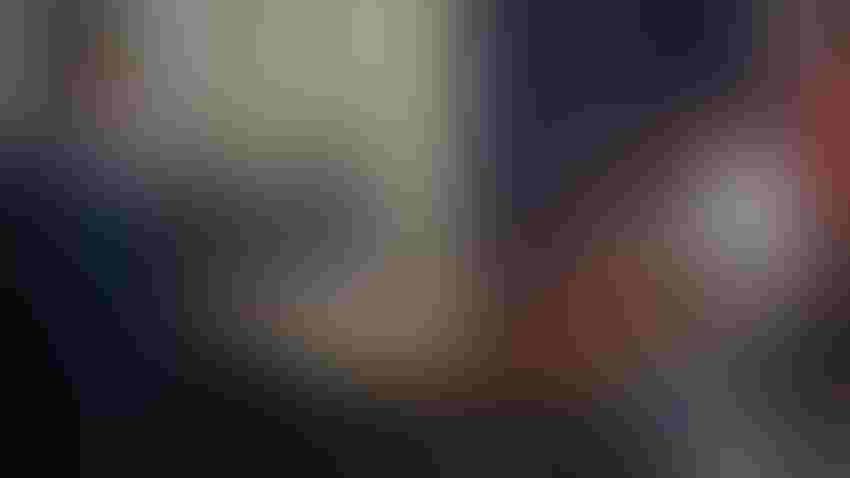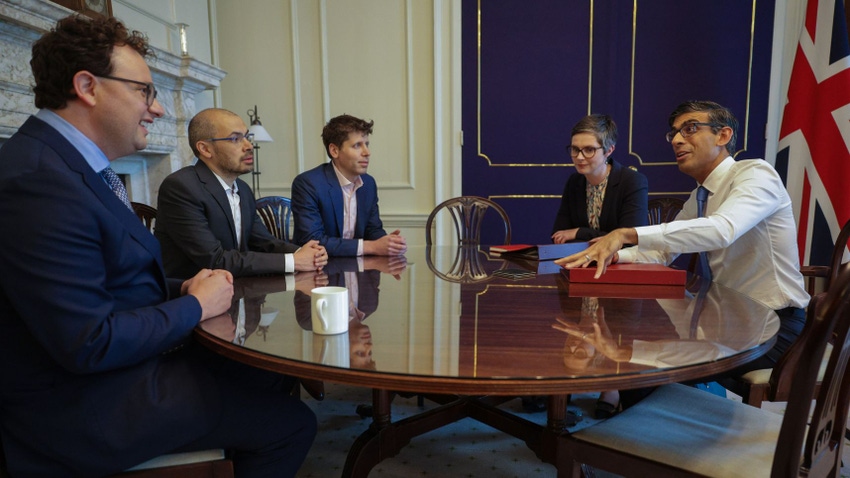 From left: Anthropic CEO Dario Amodei, Google DeepMind CEO Demis Hassabis, OpenAI Sam Altman, U.K. Science minister Chloe Smith and Prime Minister Rishi Sunak
Simon Walker / No. 10 Downing Street
At a Glance
Sam Altman, Dario Amodei and Demis Hassabis met with U.K. PM Rishi Sunak to commit to a governance approach.

Separately, Google CEO Sundar Pichai met with EU leaders to develop a voluntary AI pact ahead of the passage of the AI Act.
The CEOs of OpenAI, Alphabet, Google DeepMind and Anthropic are currently on what equates to a European tour of governments to discuss potential AI governance approaches.
In the U.K., Sam Altman from OpenAI, Google DeepMind's Demis Hassabis and Anthropic's Dario Amodei recently met with U.K. Prime Minister Rishi Sunak to discuss ways to ensure deployment of advanced AI does not harm society.
Meanwhile, Google CEO Sundar Pichai met with EU industry chief Thierry Breton to negotiate a voluntary agreement over AI practices ahead of the EU passage of the AI Act.
Sunak seeks 'the right approach'
At 10 Downing Street, Altman, Hassabis and Amodei met with Sunak and Science minister Chloe Smith to discuss establishing "the right approach to governance for the next technological frontier," the government said.
Sunak, who has often sought to position himself as tech-savvy, said that AI could have a positive impact on humans but it must have the right guardrails in place to ensure public confidence.
The group discussed the risks of the technology, ranging from disinformation and national security to existential threats. They reportedly also talked about safety measures, voluntary actions the startups are considering to better manage the risks, as well as possible avenues for international collaboration on AI safety and regulation.
The CEOs agreed to work with the Sunak administration to ensure the country's AI approach "responds to the speed of innovations in this technology both in the U.K. and around the globe."
The CEOs also agreed to work closely with the U.K. Foundation Model Taskforce, a £100 million ($125 million) endeavor tasked with spending on model infrastructure and public service procurement.
The U.K. has opted for a 'light touch' approach – leaving it up to individual regulators to come up with rules on AI for their specific sectors. The government published a white paper outlining guidelines for regulators enforcing rules on AI.
These meetings follow a recent high-level summons by the White House to hold these AI leaders accountable on the potentially significant harms advanced AI may unleash.
Google seeks deal ahead of AI regulations
Meanwhile, the Google CEO sat down in Brussels with Thierry Breton, the EU's commissioner for internal market, and agreed to work together to "develop an AI pact on a voluntary basis."
"Sundar and I agreed that we cannot afford to wait until AI regulation actually becomes applicable," Breton said in a statement.
The EU's AI Act, which has been slowly edging its way to becoming law for the past two years, would class all AI systems based on their 'trustworthiness' or their likelihood to impact a citizen's rights.
To jump ahead of the legislative curve, Google is set to work with the European Commission along with European and non-European companies to establish a set of rules governing the technology.
Margrethe Vestager, the EU's Competition Commissioner, also met with Pichai. She warned that AI "evolves at extreme speed," hence the need for a voluntary agreement on universal rules.
Stay updated. Subscribe to the AI Business newsletter
The European Parliament was expected to vote on the AI Act in the second week of June, although there now might be a delay as lawmakers could not agree on the basic principles of the bill. Past delays were sparked by disagreements over numerous provisions, including law enforcement use of biometric facial recognition systems.
Recent amendments to the AI Act saw the addition of foundation models - like PaLM 2 and GPT-4 – and introduced "additional transparency requirements" such as forcing model outputs to state it was generated by AI.
Despite all the delays, the prospective legislation seems headed for passage. It was already greenlit by both European Parliament committees and the Council of the European Union. What's left is for the bill to be endorsed by the whole Parliament before one final sign-off from leaders of both bodies.
Keep up with the ever-evolving AI landscape
Unlock exclusive AI content by subscribing to our newsletter!!
You May Also Like
---