Hyundai's Shucke to test autonomous shuttles on the streets of Sejong, South Korea
Hyundai's Shucke to test autonomous shuttles on the streets of Sejong, South Korea
Internal cameras can recognize the passenger and determine whether they sit in a designated seat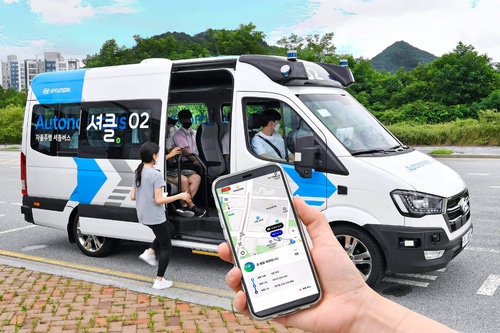 Internal cameras can recognize the passengers
Hyundai is set to test its autonomous passenger shuttles on the streets of Sejong City, South Korea.
The Sejong City Transportation Corporation signed an agreement with the car manufacturer, allowing it to run a high-occupancy vehicle service along a 6.1km route from the Sejong Government Complex to Sejong National Arboretum.
For this purpose, Hyundai's "RoboShuttles" have been granted a temporary operation permit for Level 3 autonomous driving, with the service running between early August and early October.
Passengers will be able to request a pickup from one of 20 stops via the Shucle smartphone app.
I'm all Shucle up
Like many of its competitors, Hyundai is deeply involved in the development of self-driving vehicles. Last March, it established Motional, a US-based autonomous vehicle firm, as part of a joint venture with auto supplier Aptiv. Motional enjoyed a limited partnership with Lyft prior to the ride-hailing business being sold to Toyota earlier this year.
Hyundai was also involved in Pony.ai's robotaxi services in California – joining up with Via in late 2019 to create BotRide, a fleet of self-driving Hyundai KONA Electric SUVs that provided free ride-sharing services to the local community of Irvine in Orange County.
The RoboShuttles the company is trialing in Korea are based on four-door Hyundai H350 commercial vans (known locally as Solati) that are fitted with autonomous driving technologies – including some Level 4 tech developed in-house by the company's Autonomous Driving Center.
The vehicles are designed to provide high-occupancy transportation and can perceive their surroundings, make decisions, and control themselves while driving on the road, requiring minimal intervention from a safety driver.
Internal cameras can even recognize the head shape of a passenger, allowing to determine whether they sit in a designated seat.
Hyundai's Sejong RoboShuttle pilot will last for two months, with the company planning on deploying the vehicles at the Hyundai Motor and Kia Namyang Research and Development Center in the second half of the year – providing researchers with autonomous driving shuttle services.
The automobile maker also said that the service will be "gradually expanded" to other regions but failed to say as to where.
Away from automobiles, the Korean company unveiled a robot dubbed TIGER at the start of the year, capable of both walking and four-wheel drive.
TIGER – an acronym for Transforming Intelligent Ground Excursion Robot – was displayed as a potential method of exploring remote, inaccessible locations – like other planets' surfaces.
Keep up with the ever-evolving AI landscape
Unlock exclusive AI content by subscribing to our newsletter.
You May Also Like
---