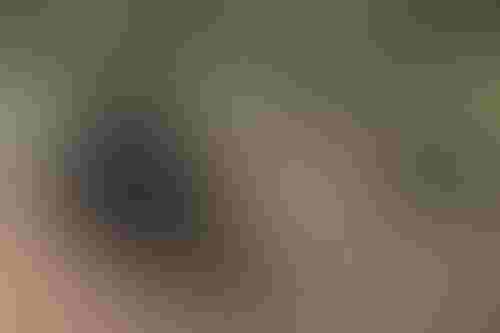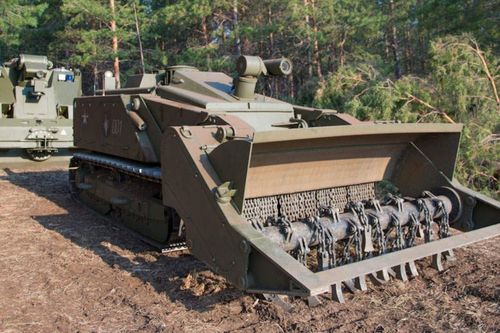 The six-ton unmanned unit is equipped with a flail called 'the ripper.'
As Russia's incursion into Ukraine enters its 90th day, the country's use of advanced technologies has so far been limited to drones.
Now they are set to deploy autonomous mine-clearing robots called the Uran-6.
The unmanned unit was shown by Russia's defense ministry in video footage clearing mines in Ukraine's Luhansk region. Luhansk is part of Ukraine's eastern Donbas region controlled by Russian-backed separatists. However, Russia has recognized Luhansk as an independent republic.
Mine-clearing units are used behind the frontlines to sweep for bombs after enemy troops have left.
Russia's Ministry of Defense claimed Ukrainian defenders had set up "cables and traps" across the region that included anti-tank and anti-personnel mines.
This week, Russia's army forces have been bolstered by the deployment of the BMPT tank, also known as the 'Terminator.' A column comprised of the 11-foot armored vehicles was seen by intelligence agencies heading to Ukraine's Donbas frontline.
Bomb-disposal robots
Robots that remove munitions are nothing new – bomb disposal robots such as the Talon from QinetiQ are commonplace in armies in the U.K. and U.S.
But while the Talon weighs 178 lbs, the Uran-6 clocks in at around six tons and is akin in size to an excavator.
The front of the unit sees an equipped flail, dubbed 'the ripper', that churns the ground to expose and destroy Improvised Explosive Devices (IEDs). The unit itself is multifunctional and can be fitted with tools for certain jobs, like a self-propelled minesweeper, a robotic arm and a bulldozer blade.
The Uran-6 is fitted with blast-proof cameras that provide 360-degree views to guide the unit. It can be operated remotely by a single pilot using a remote control from a distance of 800 meters in open areas and 300 meters in urban areas.
The unmanned unit is manufactured by JSC 766 UPTK, part of the Kalashnikov group. The company is behind another autonomous unit that bears the same name, the Uran-9. This unmanned combat ground vehicle is fitted with a 30mm 2A72 autocannon, as well as 4 × 9M120 Ataka anti-tank missiles and up to 12 Shmel-M thermobaric rocket launchers.
It saw deployment in Syria and was involved in the large-scale Vostok drills in 2018. No reports have yet been published to suggest it has been deployed in Ukraine. However, Russian armed forces chief General Oleg Salyukov had said the Uran-9 would be accepted into service by the Russian Ground Forces during 2022 for both combat and reconnaissance purposes.
Keep up with the ever-evolving AI landscape
Unlock exclusive AI content by subscribing to our newsletter!!
You May Also Like
---