Deepfakes for good: Synthetic images used to 'teach' autonomous cars
Deepfakes for good: Synthetic images used to 'teach' autonomous cars
Helping create infinite visual representations of the same situation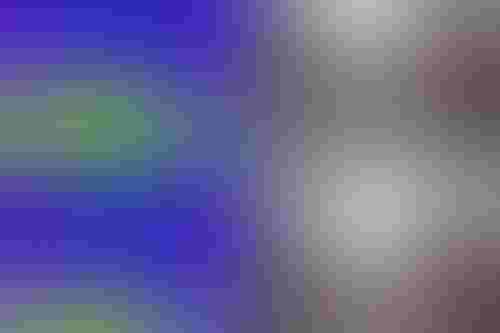 Helping create infinite visual representations of the same situation
Autonomous driving software specialist Oxbotica says that it has applied the technologies used in 'deepfakes' to accelerate the arrival of driverless cars on our roads.
Until now, deepfake software has been generally associated with misuse, generating fake images of celebrities and politicians for the purposes of propaganda or pornography.
But Oxbotica is harnessing the tech to produce photo-realistic images that can be used to train its software in different road scenarios.
This reduces the need for self-driving cars to experience these scenarios in real-world testing conditions, cutting the time – and expense – required to develop autonomous vehicles.
Virtual reality
Oxbotica's deepfake tech allows thousands of realistic images to be generated in minutes. These can include infinite variations of the same situation – for example, in different weather conditions.
The technology can reverse road signs, or replace a tree with a building. It's also possible to change the lighting of an image to show a frame at a specific time of the day, or season of the year.
By implementing these subtle changes, the system can generate thousands of synthetic images that replicate true-to-life experiences and can be used to inform the software which will ultimately be fitted in self-driving cars.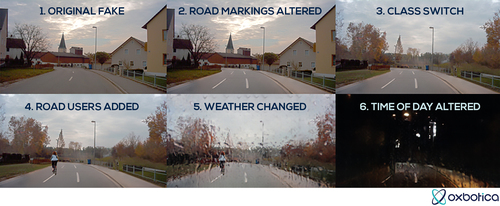 Paul Newman, co-founder and CTO at Oxbotica, believes this application of deepfake tech is a major breakthrough.
He said: "Using deepfakes is an incredible opportunity for us to increase the speed and efficiency of safely bringing autonomy to any vehicle in any environment.
"What we are doing here is training our AI to produce a syllabus for other AIs to learn from. It offers remarkable scaling opportunities.
"There is no substitute for real-world testing but the autonomous vehicle industry has become concerned with the number of miles traveled as a synonym for safety. And yet you cannot guarantee the vehicle will confront every eventuality.
"The use of deepfakes enables us to test countless scenarios, which will not only allow us to scale our real-world testing exponentially, it'll be safer."
At the core of Oxbotica's system is an advanced teaching cycle made up of two co-evolving algorithms. One is attempting to create increasingly convincing fake images while the other tries to detect which are real and which have been reproduced.
Both improve over time in a bid to outsmart each other. Ultimately, the detection mechanism becomes unable to spot the difference, which means the deepfake AI module can then be used to generate visual data to teach other AIs.
Earlier this month, Oxford-based Oxbotica signed a memorandum of understanding with Wenco to develop autonomous haulage trucks for the mining industry.
Keep up with the ever-evolving AI landscape
Unlock exclusive AI content by subscribing to our newsletter.
You May Also Like
---