Volvo and Nvidia extend collaboration on driverless tech
Volvo and Nvidia extend collaboration on driverless tech
The upcoming XC90 SUV will be powered by DRIVE Orin hardware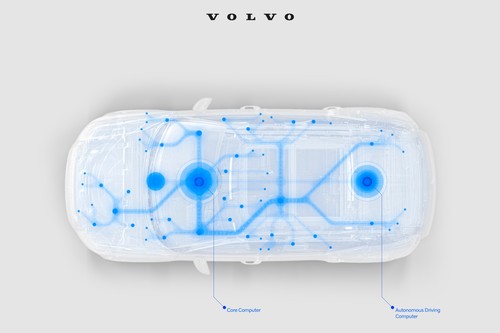 The upcoming XC90 SUV will be powered by DRIVE Orin hardware
Volvo has taken another significant step on the road to fully autonomous cars by expanding its relationship with AI hardware giant Nvidia.
The car maker has confirmed that it will use Nvidia's DRIVE Orin system-on-a-chip to power the autonomous driving computer in its next-generation vehicles based on the SPA2 platform.
Volvo is optimistic that it will be the first manufacturer with global reach to make use of DRIVE Orin, and the first model to benefit will be the all-new XC90 SUV, which is due to be revealed next year.
The chip has been designed specifically for autonomous driving and is claimed to be capable of 254 trillion operations per second, which according to Volvo is more than any other processor currently on the market.
The best Volvos
DRIVE Orin will work in tandem with Volvo's autonomous driving software – which has been developed in-house – as well as back-up systems for the steering and braking. The added computing power and graphics processing will enable an array of sensors including LiDAR tech developed by Luminar, another of Volvo's partners.
All of Volvo's SPA2 cars are being developed to accommodate autonomous driving at launch, but initially the Highway Pilot feature will only be activated under specific conditions and in certain designated locations.
Over the years, Volvo has earned a reputation as a pioneer in car safety and that has been a major consideration in the adoption of the Nvidia tech.
Henrik Green, Chief Technology Officer at Volvo Cars, said: "We believe in partnering with the world's leading technology firms to build the best Volvos possible. With the help of Nvidia DRIVE Orin technology, we can take safety to the next level on our next generation of cars."
This latest announcement is a natural progression given Volvo's use of Nvidia's DRIVE Xavier system-on-a-chip for the core computer on SPA2 cars. This manages the base software, energy management and driver assistance on the vehicles, and works alongside DRIVE Orin.
Volvo believes that using a centralized computing system, which is managed by these two pieces of Nvidia tech, removes a lot of the complexity from the car's systems.
The Swedish company is becoming increasingly active in its efforts to deliver self-driving vehicles. Last year, it confirmed it had teameed up with Alphabet's autonomous driving subsidiary Waymo to develop driverless taxis, in a deal that also included sister brands Polestar and Lynk & Co.
Nvidia counts a number of leading car makers as partners, including Audi, Mercedes, Tesla, Toyota and Volkswagen.
Keep up with the ever-evolving AI landscape
Unlock exclusive AI content by subscribing to our newsletter.
You May Also Like
---