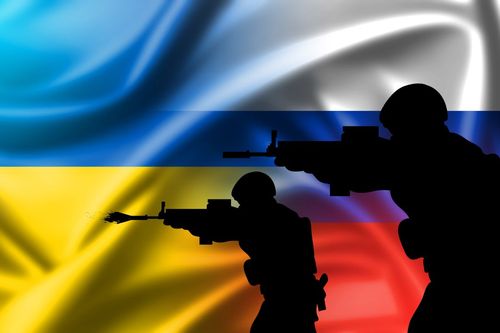 Is this a turning point in the war?
Six months into the Russian invasion of Ukraine, the tide may be turning against the aggressors.
"The turning point in the war has already begun," said Major Gen. Kyrylo Budanov, head of the Main Directorate of Intelligence of the Ministry of Defense of Ukraine. The Russians are realizing "their army is not that strong, the air defense systems are not that good … this is not at all the second (best) army of the world, and not even the fourth. And payback will come."
Ukrainian forces are making their way through the south of the country in a bid to recapture Kherson, the only regional capital Russia has taken since the war began in February. Fierce ground fighting is expected, with Russian supply lines being shelled along the Dnieper River.
Last week, Pres. Biden approved sending $3 billion worth of weapons and equipment to Ukraine to buy air defense systems, artillery systems and munitions, counter-unmanned aerial systems and radars.
"If they want to survive, it is time for the Russian military to flee," said Ukrainian president Volodymyr Zelensky. "Go home."
Drones and modern warfare
As U.S.-supplied HIMARS rockets rain down on the invaders, it is a less conventional weapon that may be key to turning the tide in this conflict, something modern warfare has not seen before: drones.
Drones, Unmanned Air Systems (UAS), or Unmanned Ariel Vehicles (UAVs) have been front and center throughout Europe's latest conflict.
And while these new technological military toys have seen use in conflicts in Syria, Libya, and Afghanistan, this is the first time the eyes of the world have witnessed a war in Europe where drones have made significant contributions above the battlefield.
Both sides have deployed drones: Russia has used KUB-BLA to try and target government infrastructure and Merlin-VRs to gather intelligence. The Ukrainians have made use of Bayraktar-TB2s, Switchblade 300s and Phoenix Ghosts following relief from allies in Turkey and the U.S.
Deployments have seen loitering munitions, or 'kamikaze' drones, target supply lines and military headquarters. Ukraine has used these to great effect, successfully hitting the Russian naval base in Sevastopol as well as an oil refinery in Novoshakhtinsk, inside Russian territory near Rostov.
The proliferation of drones throughout the Ukraine conflict is largely down to the rapid procurement of widely available 'off the shelf' systems, according to Robert Garbett, founder and CEO of Drone Major Group.
Related stories:
Drone swarm produces real-time 3D battlefield maps
Microsoft unveils autonomous aircraft training simulator
5 drone makers to keep on your radar
Russia's AI army: Drones, AI-guided missiles and autonomous tanks
However, he warned that while UAV use has increased, so too has the prowess of each side to detect, identify, track and defeat such systems.
A report from Royal United Services Institute (RUSI) suggests that Ukrainian drones scarcely last one week.
Meanwhile, Russia is utilizing both radar defenses and Stupor rifles, which shoot electromagnetic pulses, to take down enemy drones. The invaders have also been utilizing Aeroscope, a system that detects and interrupts communications between commercial drones and their operators, forcing them to crash.
"The rapid procurement of systems manufactured in China for surveillance and tracking by Ukraine has been particularly troublesome with many systems being digitally hijacked or damaged by Russian forces," he said.
"The approach now needs to shift and shift fast to the use of proven, capable systems from a wide range of western manufacturers for which 'hijack codes' and Counter UAS (C-UAS) technologies are not widely available."
According to Garbett, this approach will reduce loss rates in the short term. In the longer term, he called for western UAS manufacturers, whether designing for military use or civilian applications, to consider reducing vulnerabilities in their systems.
The lack of 'digital hardening' is something drone manufacturers have been "far too complacent about for far too long," he added.
As military drone use has increased throughout the war, there remains an untapped value in the delivery of humanitarian aid and logistics support to frontline forces, Garbett suggested. His comments were echoes of his view from May that commercial drones could be used to deliver supplies across the besieged country. And perhaps drones could be used in the effort to rebuild Ukraine, he added.
Keep up with the ever-evolving AI landscape
Unlock exclusive AI content by subscribing to our newsletter!!
You May Also Like
---